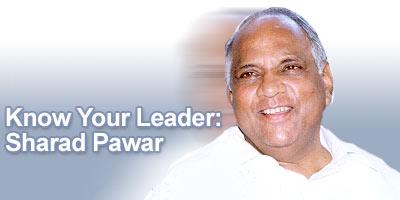 Full Name
Sharadchandra Govindrao Pawar
Getting personal 
Born on December 12, 1940. Married to Pratibha. Only child Supriya is married.
Strengths
Enormous grassroots knowledge. He knows every district and taluka of Maharashtra, and possibly every leader in each.
Pawar is known to be a great talent-spotter. He was the one who suggested a political career to Sub-Inspector Sushilkumar Shinde way back in 1973. Today Shinde is the chief minister of Maharashtra.
He also convinced Chhagan Bhujbal to quit the Shiv Sena and join the Congress in December 1990, giving Shiv Sena leader Bal Thackeray a big jolt. Bhujbal later became deputy chief minister of Maharashtra.
His biggest achievement
He became Maharashtra chief minister for the first time aged just 38 in 1978. This he did by toppling the Congress government of Vasantdada Patil, split the party, and formed a government in coalition with the Janata Party under the banner of the Progressive Democratic Front.
Pawar had entered the assembly for the first time in 1967 from Baramati which remains his pocket borough.
Other achievements
Pawar put Baramati on Maharashtra's political map. Baramati was a rural, agricultural region until he came on the scene. Today, his constituency is one of the more industrialized in western Maharashtra. And though Baramati has always received scanty rainfall, the water management scheme launched by Pawar back in 1970 ensures even today that the region is not affected when the rest of the state is suffering from a drought.
Thanks to this work, Pawar's victory in Baramati is always a foregone conclusion. He won the seat by a huge margin in 1984, when the tidal wave of sympathy for the late Indira Gandhi washed away even stalwarts like Atal Bihari Vajpayee. In fact, Pawar's election campaign in Baramati is usually restricted to one public meeting on the last day. This leaves him a lot of time to campaign for his party's candidates elsewhere in the state.
With such a solid base, Pawar has been able to retain his influence even when he has been out of the Congress, like in the period from 1978 to 1986, or now, after forming the Nationalist Congress Party in 1999.
Unlike many other politicians, Pawar also believes in entrepreneurship and attracting foreign investment.
Ambition
Wants to become prime minister.
The closest he came to realising his dream was in 1991, after the Congress came to power in the post-Rajiv Gandhi era. But he had to settle for the job of defence minister under P V Narasimha Rao.
Drawbacks
Pawar has the image of being untrustworthy. His abandoning his mentor Yashwantrao Chavan to win power continues to haunt him.
He has also been involved in his fair share of controversies, including, most famously, the Enron fiasco. It was his government that cleared the Enron project in 1993.
Also, Pawar has failed to expand his base beyond western Maharashtra.
Image: Rahil Shaikh