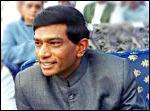 Relentless lobbying coupled with the lack of a popular tribal leader in Chhattisgarh helped former chief minister Ajit Jogi make his way back into the good books of the Congress leadership.
Jogi had been suspended after the cash-for-MLAs scandal, which tarnished the party's image across the country. He did the unthinkable by implying that he had party president Sonia Gandhi's approval to break the Bharatiya Janata Party, which had emerged as the single largest group in the state after the assembly election in December 2003.
"For a lesser mortal, getting rehabilitated so soon would have been difficult," senior Congress leader Pranab Mukherjee told rediff.com candidly. "But Ajit Jogi is a determined individual and not many can actually grudge that he is back in the reckoning."




Ajit Jogi was seriously injured on April 11 when his car hit a tree while he was on his way to an early morning election meeting. He suffered injuries to his head and spine. He was shifted to Mumbai and operated upon the same night. His recovery is likely to be slow and his doctors are hesitant to make a long-term prognosis.
Mukherjee said the party high command forgave Jogi because he is an experienced administrator and popular with the people.
"Jogiji has the party's best interests at heart," Congress legislator Shiv Dehria told rediff.com "Let's forget whatever happened in the past." Tribals in Chhattisgarh, he said, have not forgotten that as chief minister Jogi had helped them.
According to sources in Raipur, Jogi considerably improved the road network and irrigation facilities in the state.
Secondly, having been spokesman for his party in Delhi, he was adept at handling the media and projecting himself in a positive light. Hence, though Chhattisgarh had a power surplus even at the time of its formation, he set out to convince people that it was his achievement.
He made grandiose announcements; people were impressed, though no one still knows where the money is going to come from to fulfil those promises.
But his biggest asset, they said, was his rapport with the people. He had toured the entire state during his tenure as chief minister and established personal rapport with the people. Even in his earlier avatar as a bureaucrat, he was known to have covered almost every nook and corner of the district where he was posted as collector.
The sources said that as chief minister Jogi used his knowledge of the bureaucracy to empower district collectors while taking away almost all the powers of ministers and MLAs. The collectors were answerable only to the chief minister, which was why he was unpopular with MLAs.
According to some people, his ministers did not have the power to transfer even a peon.
His downfall was his arrogance, which stemmed from his clout with the party's top leadership. Besides, he was not open to criticism and was known to use high-handed tactics to cow down critics.
Another problem was his son Amit, who had begun interfering in the administration and was known to give orders to top police officials.
Senior party leaders like Shyama Charan Shukla and Congress Treasurer Motilal Vora were uncomfortable with Jogi's pushiness and the free hand that Sonia Gandhi had given him.
They pointed to his peccadilloes -- allegedly forging Intelligence Bureau documents, which landed him in deep trouble before the 2003 assembly election, and furnishing a certificate that he had been domiciled in Delhi to obtain a petrol pump.
They told Gandhi that there was a reckless streak in Jogi which would prove undesirable for the party, and that he should be kept at arm's length till he gave firm evidence that he had reformed himself.
But they underestimated Jogi's determination to make amends with the central leadership. Within a couple of weeks of the party's defeat in the state, he began marshalling his political resources. He ensured that both former and current party legislators gave him a rousing reception at Raipur airport. He repeated this several times and periodically visited New Delhi to keep in touch with well-wishers.
Sources said senior Congress politicians like Mukherjee, Oscar Fernandes and Dr Manmohan Singh were among those who discreetly canvassed for Jogi's rehabilitation.
Jogi made a desperate but vain bid to meet Gandhi during the Congress Working Committee meeting at the party's 24 Akbar Road headquarters on January 8. He returned to Raipur undeterred and let the central leadership know that as a Congress die-hard he was keen to campaign in the Northeast for the parliamentary election.
Congress spokesman Salman Khurshid said the leadership forgave Jogi after he expressed his regret to the disciplinary action committee headed by L P Sahi for his indiscretion.
Sources in Delhi said this evoked a mixed response with some saying the party did not need a proven liability, while others insisted that Jogi is the only tribal leader worth the name in Chhattisgarh and that the leadership should think hard before relegating him into political oblivion.
| | |
| --- | --- |
| | Also Read |
| |   |
Eventually, Jogi's suspension was revoked and he was named the Congress candidate from Mahasamund against arch-rival and new Bharatiya Janata Party entrant Vidya Charan Shukla.
Jogi, it is believed, convinced the leadership that Shukla, as head of the Nationalist Congress Party in Chhattisgarh, was responsible for the Congress government's downfall. He sought an opportunity to avenge that defeat by humbling Shukla in Mahasamund.
The seat is Shukla's stronghold and Jogi faces an uphill task, which seems to be the price for his rehabilitation. Before his accident on April 11, he was not asked to campaign in any other part of the state.
But that has not deterred his supporters. "Now that it [Jogi's suspension] has been revoked, our party will not delay in regaining lost ground. We look forward to moving ahead under his leadership and consolidating our hold in Chhattisgarh," Dehria said.
But all this will have to wait till Jogi recovers from the consequences of the horrific accident.