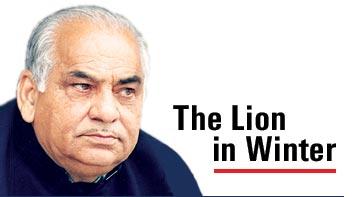 Dilli ka sher, Dilliwalon ke dil ki dharkan! That is how Bharatiya Janata Party workers introduces their stalwart leader and chief ministerial candidate Madan Lal Khurna at election rallies in the national capital territory.
Born in the West Punjab town of Lyallpur, Khurana was barely 12 when the family was forced to migrate to Delhi by Partition and began to piece its life together again at a refugee colony in Kirti Nagar, west Delhi.
As a youth, Khurana became a teacher with Vijay Kumar Malhotra, another veteran leader of the BJP, at an evening college before deciding to enter politics. Khurana, Malhotra, Kedar Nath Sahni and Kanwar Lal Gupta founded the Delhi chapter of the Jan Sangh, forerunner of the BJP. Khurana was the Jan Sangh's general secretary from 1965 to 1967.
"Khurana had his training in politics at Allahabad University, where he was doing his post-graduation in economics. He was general secretary of the Allahabad Students Union in 1959 and became general secretary of the Akhil Bharatiya Vidyarthi Parishad in 1960," recalled Jagdish Prasad Mathur, former member of the Rajya Sabha and a senior leader of the Delhi BJP.
The 67-year-old Khurana, a former chief minister of Delhi who now represents Delhi Sadar in the Lok Sabha, is being challenged this time in his pocket borough, Moti Nagar, by Congress greenhorn, former Delhi University Students Union office-bearer Alka Lamba, all of 28 years old.
Khurana laughs when asked about Lamba. "She is like a daughter to me," he says. "She does not even know the constituency. She will go around for some time and then we will see her off on December 1."
But Lamba is almost brashly confident that she will force the 'lion of Delhi' to flee to the nearest sanctuary. "His time is over," she told reporters grandly after filing her nomination for the Moti Nagar constituency. "The new generation is taking over and I am certain I will emerge victorious on December 4. It is I who will give him a farewell from his home constituency."
This, of course, is not Lamba's line alone, it is the Congress party line. As a senior Delhi Congress leader told rediff.com, "The time has come for Madan Lal Khurana to gracefully retire from politics and let the younger generation take over."
In a political career spanning more than four decades, Khurana has seen many ups and downs. He was forced to resign as chief minister of Delhi after his name figured in a list of politicians allegedly involved in the Jain hawala scandal, in which a businessman involved in illegal foreign currency dealings was alleged to have paid bribes to several top politicians, back in 1995.
The party brass eased Khurana out, promising to reinstall him as chief minister if his name was cleared. After the Supreme Court refused, in 1998, to admit scribblings in a diary as evidence, Khurana staked his claim for the chief ministership once again. But his successor, Sahib Singh Verma, refused to vacate the chair and the party unit teetered on the verge of a split with the assembly election at hand.
As a compromise, the BJP leadership got Khurana a Union minister's post and installed Sushma Swaraj as chief minister with less than two months to go for the Delhi assembly election. Swaraj, quite understandably, was unable to work the miracle the party was expecting from her in that short span of time and the BJP suffered a humiliating defeat at the hands of the Congress.
The result was a big setback for the BJP, which had dominated Delhi politics for a long time, but it helped Khurana bounce back as the party's primary leader in the capital.
"This time the party had no option but to ask Khurana to lead it after Vijay Kumar Malhotra and Sushma Swaraj backed out," a senior leader told rediff.com "Khurana accepted the challenge and we are confident that the BJP will return to power under his leadership."
Khurana, who was famous for holding a press conference a day for almost three years when he was chief minister, claims that the Delhi metro railway is his brainchild and it was during his tenure as chief minister that a separate fund was allocated for the project.
Last year, as the project was nearing completion, he was installed as chairman of the Delhi Metro Rail Corporation. The Congress is now trying to use that appointment to put a spoke in Khurana's wheel. The party has complained to the Election Commission that Khurana violated electoral guidelines by not tendering his resignation as chairman of the DMRC, an office of profit, before filing his nomination for the forthcoming election.
Khurana hopes to win between 40 and 45 seats for the BJP and return as chief minister of Delhi. But what if his plans do not succeed and the Congress led by Chief Minister Shiela Dikshit is returned to power? "In that eventuality he would like to continue as member of Parliament," a close aide told rediff.com
Image: Uday Kuckian