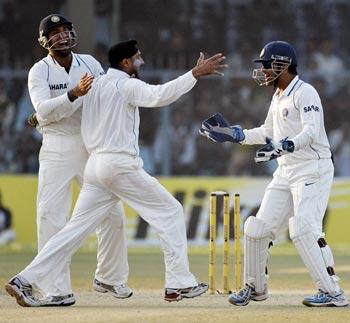 Team India completed a well-deserved century on Friday.
The home team thrashed Sri Lanka by an innings and 144 runs in the second cricket Test at Kanpur to take a 1-0 lead in the three-match series.
Sri Lankans, who managed 229 in the first innings, did slightly better in their second essay, folding for 269. The visitors began at 57 for four, but could not last long before caving in with more than four sessions to spare to ensure India a memorable win.
Memorable because it happened to be India's 100th win in the 432 Tests they have played in.
India thus became the sixth nation to win 100 Test matches.
World champions Australia lead the way with 332 wins followed by England (310), West Indies (152), South Africa (120) and Pakistan (102).
India, which played its first Test (against England) on June 25, 1932, thereby took 77 years and five months to complete its century of wins.
The team took 20 years to score its first Test win -- over England in 1952 - and has 137 Test defeats as opposed to the century of wins.
However, in the century of wins are some memorable ones, like the maiden win at Chennai (then Madras), the first win over Australia at Green Park (Kanpur) in 1959, the first series win overseas against New Zealand in 1968 or the win over the mighty West Indies at Queen's Park Oval in 1971.
More recently, there was the come-from-behind win over Australia at Kolkata (2001), a first Test win at Perth (2008) and last year's remarkable chase against England at Chennai.
Which of the Indian wins you feel is the most memorable.
Tell us!