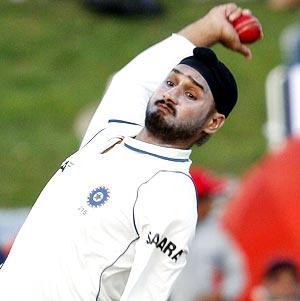 The 'doosra': an art of spin bowling or act of cheating?
Ever since Pakistan's spin wizard Saqlain Mushtaq invented the away-going delivery, off-spinners around the world have clamoured to perfect the 'doosra', which has proved to be one of the most lethal deliveries in cricket.
All top off-spinners in world cricket, including Muttiah Muralitharan of Sri Lanka and India's Harbhajan Singh, have used it with great success over the years.
However, the 'doosra' now seems to have become a pain in the neck for some, particularly the Australians.
Former Australia spinners, including the legendary Shane Warne, have raised a unanimous alarm against coaching the controversial 'doosra' in the country, with Ashley Mallett terming it nothing but 'chucking'.
Former off-spinner Mallett says the delivery can never be legitimate as it cannot be bowled by a finger-spinner without 'chucking'.
Recently, Pakistan off-spinner Saeed Ajmal found himself on the wrong side of the law when he was reported by the umpires while bowling a 'doosra' during the second ODI against Australia in Dubai in April. His bowling action was later cleared by a bio-mechanics expert.
Similarly, this May, South Africa's Johan Botha was warned against bowling the 'doosra', after his delivery was ruled illegal by the ICC during a match.
Doubts were also raised against the bowling actions of Muralitharan, Harbhajan and Pakistan's Shoaib Malik during their careers and all of them had to go through the ICC human movement specialist panel to get themselves cleared.
But what exactly is the 'doosra'?
It is a delivery in which the off-spinner delivers the ball with the same finger action as a normal off-break delivery but cocks the wrist so that the back of the hand faces the batsman. As a result of that change in the action, the delivery spins in the opposite direction to that for an off-break, like an away going delivery from the leg side to the off-side to a right-handed batsman.
Thus, the debate over its legitimacy.
What do you think? Should the Aussies' call to ban the 'doosra' be heeded? Should it stay as just another delivery in the armoury of off-spinners?
Have your say!