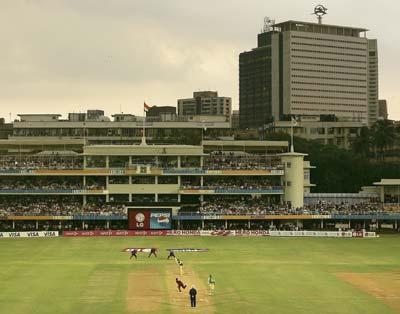 Test cricket is all set to return after a long gap of 35 years to the Cricket Club of India's Brabourne Stadium, which is expected to play host to the Platinum Jubilee Test match against England at the end of this year.
With the non-availability of the Mumbai Cricket Association's Wankhede Stadium till the 2011 World Cup, MCA authorities have had discussions with the CCI authorities and all that's remaining is signing of a three-year deal on June 18, according to MCA joint secretary Dr PV Shetty.
"The discussion part is over and the CCI authorities have agreed to keep 50 per cent of the club house tickets to themselves and give the rest to us (MCA).
"A formal agreement, for a period of three years till Wankhede is available to us again to host matches, is to be signed with the CCI on June 18 when our managing committee meets," Shetty told PTI.
Brabourne, built on land reclaimed from the sea, hosted its first match between Lord Tennyson's XI and CCI in 1937.
The venue has played host to 17 Test matches between December, 1948 (v the West Indies team led by Trevor Goddard) and February, 1973 (v England led by Tony Lewis).
A long-standing dispute over sharing of tickets between the CCI and the MCA, which officially hosts all ties in Mumbai allotted by the Cricket Board, led to the birth of the Wankhede Stadium, a stone's throw away and on the other side of the Churchgate Station, at the Lloyd's Reclamation.
Photograph: Getty Images