Lalchand Rajput may have not achieved much in international cricket as a player, but as coach he is definitely making huge waves.
After successfully coaching the India Under-19 and India 'A' teams for a few years, he achieved a major breakthrough when he guided the Indian team to the Twenty20 World Cup title in his role as team manager.
He played a major part in keeping the young team focused during the tournament, and it was no surprise that he was asked to continue for the ongoing Australia one-day series.
Special Correspondent Harish Kotian caught up with the 45-year-old former Mumbai player in Bangalore on the eve of the first One-Day International against Australia.
It was your first assignment in charge of the senior India team. How delighted were you when the team won the Twenty20 World Cup?
It was really a very good team effort. I was very excited to take over the senior team. Every coach always looks at that goal -- that one day that he wants to take over the senior team. So that was a very good opportunity for me and it could not have been better than at the Twenty20 World Cup. At the end, it was an amazing victory. The team performed extremely well as a unit and that is why we were very successful.
What do you think was the one single element that led the team to victory at the Twenty20 World Cup?
I think team spirit! The team was hungry for success; I think that was very important.
The team that went for the World Cup didn't have much experience of Twenty20 cricket, having played just one international match. So, in that sense, was the task difficult to being with?
I think, since they all are cricketers of repute, because they have been playing for their county and they came straight from England, they were all match fit. The only thing we said that was that we don't want you guys to take any pressure. The more you think about the game, and take pressure, your performance suffers. You don't have to take pressure, just go out there give your 100 per cent. Your body language should be good, you should be positive in your approach and so should the intensity level with which you should play. I think all these three things, if you do well, then success is definitely guaranteed.
India's first match against Scotland was washed out and then came the big match against arch-rivals Pakistan, which India won via the bowl-out. How much pressure was there on you when the bowl-out happened?
As I said, when you are with the Indian team there is always pressure and have to handle that pressure. 
I think we did extremely well in the bowl-out, because we picked the slower bowlers rather than the fast bowlers. We felt that the slower bowlers had more chances of hitting the stumps.
Was it planned beforehand that you would play the slower bowlers in the bowl-out?
Yes, it was. Before that game against Pakistan we had a bowl-out session so we knew exactly who were the good hitters of the stumps. I think that worked for us.
There were a lot of youngsters in the Twenty20 World Cup-winning squad and they performed exceptionally well. Were you delighted with their showing?
Absolutely! When I picked Rohit Sharma, I had a chat with him and I told him 'this is an opportunity for you.
'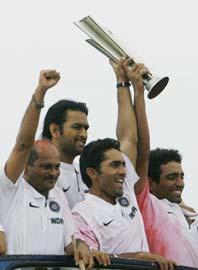 You got to think positive because you have never played in England. So go out there and give your best. The reason because you are in the team is that you are talented and among the best 15 players in the country. Now is the time to prove your talent in the centre. So go out there, give your 100 percent and enjoy your cricket'.
Irfan Pathan and Harbhajan Singh, who were making a comeback into the Indian team put in a top-class performance. What is your take on their showing?
I think the main reason was that they were hungry and they wanted to do well and get back into the team. If a person has got that ambition I think he does very well in the middle.
I think they both were very hungry to go out there and perform. Since Harbhajan had done very well in English county cricket, he carried that momentum into the Twenty20 World Cup too and bowled extremely well throughout the tournament; same for Irfan Pathan.
I think he has got his swing back and he fielded brilliantly too. And, in between, whenever the opportunity came he contributed with the bat too. He looks charged up again and rightly deserves to be back in the team.
What good will the Twenty20 World Cup victory do for Indian cricket?
I think this win will do good things, because being World champions is big for Indian cricket and the fans. I think the best gift we can give to our cricket-loving fans is the Twenty20 World Cup. People have now forgotten about the World Cup [debacle] in the West Indies. Everybody is now very keen and positive that this young team can do it. This young Twenty 20 team is the future of Indian cricket because the bench strength is very strong. If your bench strength is strong, then Indian cricket will be strong.
Was Yuvraj Singh's six sixes in an over in many ways the kick-start for India in the tournament? Before that match you had lost to New Zealand and had to win every match after that to stay in the tournament.
Yes. It was a very crucial game because if we wanted to qualify for the semi-finals we had to win that game. So everybody was really charged up as we had to do it. The way we started off against New Zealand -- we were 73 for no loss -- but even after that we lost. So everybody was thinking that now we have to put in more effort.
That was a fantastic effort by Yuvraj and that gave the team such a high. And everyone was saying that 'abhi karna hai, abhi peeche nahi hanta hai' [we have to do it now; we won't take a back step from here]. And I think we just moved forward from there after that.
In the final, against Pakistan, India showed a lot of character and determination to bounce back after being bowled out for 158. What discussions took place in the innings break during that match?
If you see, in the tournament we defended really low totals in the previous games as well [against Pakistan and South Africa]. And we also knew that no team had scored more than us chasing, as we won all our matches batting first. That was on the back of our mind.
The key, however, was the team's belief. Anything we will do it, whether it is 150 or 140 or 160 or 180, we will defend it. The players took the responsibility. Batsmen took the responsibility, bowlers took the responsibility when needed and the fielders backed them superbly. I think it was a very good team effort altogether.
Now comes another big test for you in the form of World champions Australia. How do you look at this challenge?
It was a challenge for me in the Twenty20 World Cup. It was such a big event, never been with the senior team before and suddenly a World Cup, but it went very well for me.
Definitely, this series is a bigger challenge for me and I want to do the same thing.
Having achieved so much success with a young side at the Twenty20 World Cup, how do you look at the return of senior players for this series?
Definitely, it will boost the team, because they are players of repute. Their presence will also help the younger players in the team, because whenever they need any help they can approach them for their advice. Sachin [Tendulkar], Sourav [Ganguly] and Rahul [Dravid] are tremendous cricketers and their inclusion will surely help.