Sachin Tendulkar's recuperation from a shoulder injury has put the emphasis on the need for a second physiotherapist, especially because of the team physio's busy tour schedule.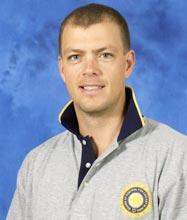 Tendulkar, India's best batsman for many years, had to seek help from former India physio and close friend Andrew Leipus in a bid to get fit for the Test series against the West Indies. His status and importance in the Indian team forced the Board of Control for Cricket in India to temporarily appoint Leipus to look after his recovery.
But lesser-known players haven't been so lucky. Ask Ashish Nehra or Laxmipathy Balaji -- the two players who missed last season due to injuries. With the team constantly on tour, team physio John Gloster rarely had time to attend to them.
The dearth of quality physiotherapists in Indian domestic cricket is a major hindrance in the development of players. Except for a few teams like Mumbai, most teams have men that do not have the necessary qualifications to serve as physios. With the World Cup less than 12 months away, the Indian team will be aiming to keep the players as fit as possible and enter the tournament in prime physical condition.
Leipus feels the team would be better served if the BCCI follows the example of England and Australia and appoints two physios. This would not only help share workload, but also give the physios time for a break.
Leipus served the Indian team from 1999 to 2005 before returning to his native Adelaide, Australia, to spend more time with his family and to enhance his professional qualifications. He is now back in India and wants to do something in the field of sports rehabilitation.
In an interview with Special Correspondent Harish Kotian, he discusses how things have changed since he left the Indian team and what needs to be addressed to improve the standard of fitness in domestic cricket.
When you left you were of the opinion that India needs two physios to serve the team efficiently. Can you elaborate why two physiotherapists are needed?
I originally wanted to do a job share where two physios would alternate touring with the team every couple of tours. This gives us a break as well as allows us to pursue other avenues of family and business life. With one physio back in India the injured players could also get the proper supervision and guidance.
The Board wanted one physio only for continuity. Currently, both Australia and England have two physios that I know about.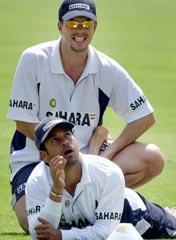 You have seen Tendulkar over the years. Do you feel, like Brian Lara and Shane Warne, he should restrict himself to Test cricket, considering the spate of injuries he has had?
I feel Sachin will be fine to participate in whatever amount of cricket he wants to. He himself knows what his body is telling him but, unfortunately, he has had some back luck recently; that's all!
Why are you back in India?
I am back to open a sports rehabilitation facility like those in the West. There is nothing like it here in India, of any note that I am aware of. It is a developing industry, and with my knowledge of the sports administration, the medical culture and my widespread contacts I feel it will be a commercial success.
Creating such a centre will employ good Indian physios, educate them, give them advanced opportunities in their profession, advance the status of the profession as a whole, and provide a service for not only sportspeople but anyone wanting the best that sports and manual/manipulative therapy can offer.
In which capacity are you willing to serve the Indian team if given another opportunity?
I need to look at having autonomy, controlling my own future. If I can provide a contractual service to the BCCI in the process, then I will be happy to be involved. They certainly need some good people here in India and they know I can do a good job.
I am the most qualified physio in the country and the players trust and have faith in my ability to get them back to cricket as quickly as possible.
What do you think is the difference between the set-up during your tenure and now? You had to go through a lot of effort to make the team a fitter unit when you took over in 1999?
Much has changed now. Administration is becoming much more professional in all aspects, which, I must admit, I am jealous of. It was much harder for myself and John Wright and even Kapil Dev to get get things done.
Nowdays the Board trusts their professionals' judgement to do their job and make sure the resources are available to them freely. Getting things done in the past was really difficult. Like purchasing necessary equipment: everything took time to get approved; we had to buy things with our own money for the team and wait months to get reimbursed etc. Nowadays fewer questions are raised and one can get on with the job properly, with everything needed.
Why is the standard of fitness not up to the mark in domestic cricket? Why don't we have qualified physios serving in domestic cricket?
You pay peanuts and you get monkeys. There is no accountablity at the domestic level for the physios and trainers. There is no real screening process and continuing training and education is superficial. There is no standardisation across domestic levels either, so everyone is doing their own thing.
The state associations need to pay for qualified and experienced people to work for them, so the players get the best possible support and guidance. Pay the staff well and you get much more accountability and professionalism.
What are your memorable moments during the five years you spent with the Indian cricket team?
Too many, really! Lots of special times, both not involving cricket -- that is off the park -- and also performance-based. Beating Pakistan in Pakistan, the sensational run in the 2003 World Cup, beating Australia in Adelaide, my home town, seeing players achieve personal milestones and knowing that I have in some way helped them achieve them; the surprise farewell dinner for me in Dhaka, where they all got up and spoke a few words of thanks.
Just seeing how cricket in India has developed since I started, and knowing I had a part to play, has been really rewarding.
Since you spent so much time with the team, could you tell us if Sourav Ganguly was a disruptive force in the Indian team?
Sourav is a strong character, a strong personality. He dared to do what others before him hadn't done. He has contributed so much to Indian cricket and I think he deserves a much better send-off than what they are giving him.
Steve Waugh chose his farewell, Sanath Jayasuriya chose his, but Sourav has not been given a chance to choose his.
Photographs: AFP/Getty Images