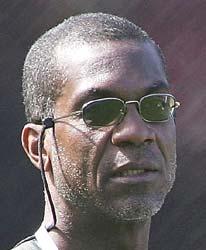 Brian Lara must count himself lucky. He might have had his reasons to get agitated but you can't show disrespect to the umpires in the middle.
In fact, I was surprised that the drama involving Mahendra Singh Dhoni's 'catch' was allowed to linger for a good 15 minutes although somebody like Simon Taufel was on the field. Usually this man is spot on to make a call. So, I was surprised that the matter lingered for that long.
In the days of match referees, usually such behaviour does not go unpunished. In good old days, a lot of us could get away with a lot of things but these days the match supervisors are intolerant to insolent behaviour.
As for the match, West Indies did not redeem their reputation although they did that of the Antigua Recreation Ground (ARG) in a way. The flattest pitch in the Caribbean nearly produced a result and that says something about the present West Indies batting.
Nobody should have lost from the tea time position on the fifth day, not even when they had the rough end of the stick from an on field umpire.
Taufel is much respected around the world and for good reason. But on the final day, he gave Shivnarine Chanderpaul out caught in the slips when even the fieldsman Rahul Dravid had appeared only mildly interested.
Wasim Jaffer was the standout performer in the match as he first wiped out the deficit and then placed his team in a winning position. He seems to have a very good technique and is at ease while executing strokes both off the front and backfoot.
Much of whatever success India had in this decade - as it is with any successful team in any era - was because its openers were delivering the goods. Jaffer could revive the good times in the company of Virender Sehwag.
Such a combination will make life still more difficult for the threadbare West Indian bowling attack in the coming matches.
Most of the pitches on this tour will be slow as it always has been in the Caribbean. It is a misconception that pitches in the region have gone slow only recently. It has always taken outstanding fast or spin bowling to throw up a winner. I am not one of those who would advocate redoing the pitches only to suit mediocre bowling.
The ground (ARG) closed its innings with one of the greatest Tests ever played. Along with Brian Lara's two world records; the great finish against Australia in 2003 when West Indies won chasing 418 runs; Viv Richards' hundred off just 56 balls and now this match, ARG can rightly claim to be a venue of extreme historical importance in the Caribbean.
No wonder, Lara wants to keep a tuft of grass as memory for good times spent at the ARG. A matter of great cricketing irony though that his last knock at this venue was a duck.
The problems of Irfan Pathan is a malaise which seems to be affecting the Indian pacemen of late. I guess they are not strong enough to keep going in the tough international arena.
They need to sort it out if it is fitness, training or diet issues which is causing them to lose their pace dramatically.
It is not a catastrophe if you miss a match or a series. It's not the end of a career. But it would be a shame if Pathan's career was to be limited only to one-day arena. Every cricketer worth his salt wants to be known as an honourable performer in Test arena. I'm sure Pathan feels the same way.
In his absence, the likes of Munaf Patel, S Sreesanth and V R V Singh bowled manfully and tended to improve as the match went by. It's a good sign but we have seen such moments in Indian cricket before too.
It is important that undue expectations are not placed on young talents and their strengths and limitations are understood. It would save both young performers and fans from being disappointed.