West Indies coach Bennett King on Monday refused to be drawn into the incident in which his captain Brian Lara snatched the ball from an umpire on the fourth day of the first Test against India in St John's.
The incident occurred after big-hitting MS Dhoni was ruled not out when television replays could not determine if Daren Ganga had stepped on the boundary in claiming a catch on the deep mid-wicket boundary.
Play was held up for several minutes and, after Dhoni was allowed to continue, an annoyed Lara grabbed the ball from umpire Asad Rauf.
Dhoni eventually accepted the word of the fielder, and was declared out.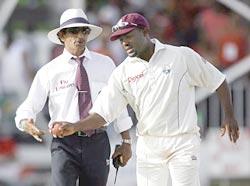 Indian captain Rahul Dravid declared his team's second innings closed on 521 for six even as the drama unfolded.
The West Indies, who need 392 to win, were 13 without loss in their second innings at stumps.
When asked for his reaction to Lara's actions, King brushed the matter aside.
"I really think that moment has gone, the decision is to be made by the umpires," he told reporters.
INDIA DOMINATE
"Personally I'd just like to move on and I'm sure both sides will want to move on and play cricket.
"It is turning out to be an exciting game, let's make sure cricket is the winner here and not focus too much on negatives.
"There has been some pretty good cricket played all the way through.
"I'm just looking forward to tomorrow (Tuesday), it should be a real exciting day."
| | |
| --- | --- |
| | Also Read |
| | |
India dominated the penultimate day of the match with opener Wasim Jaffer scoring 212.
The controversial incident occurred in the dying stages of the day after Dhoni blasted 69 off 51 balls with four fours and six sixes.
Amid the confusion it appeared that Dhoni accepted the word of the fielder that the catch was genuine.
"Brian (Lara) came up to me and said he was taking charge of his players and whatever they say will be the truth, and then I decided I should walk off," Dhoni told reporters.
"Daren was not entirely sure about if he had taken the catch because it's not always easy to tell."