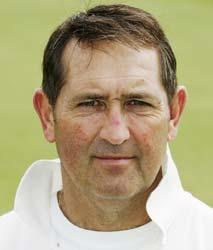 Guwahati was bad news. So was Faridabad for blows of other kind. In Delhi, in the first half, crowd simmered in unrest as Indians collapsed. Four years ago against the West Indies, stone-pelting from the stands was a norm. One-day matches in India are showing up a dangerous pattern.
Most of these matches are in far-flung venues. Big time cricket comes to town once in three years as was the case in Guwahati. If there is no action, the fans also end up worrying about the waste of a ticket. Indian cricket authorities need to regulate its policy on refund and security. They also can't ignore the sub-standard pitches.
I wonder if Rahul Dravid made a few phone calls to his team to know if everyone was safe. A captain can never really tear himself apart from his team. Gaining respect is a constant process. A coach never matters to a cricketer as much as a captain does. It's a litmus test for a captain if every member of his unit is approaching him with confidence and trust. There really should be no pecking order.
A captain is also the public face of the team. I have thus evinced a keen interest in Dravid's public stance on issues and men. Most of the time he hams or is being repetitive. He defends his men and opposition, and there is never a harsh word for a pitch or a curator. He is nearly always politically correct and nearly always boring.
I wonder if a frenzied media has shaped his approach for he can be lucid and thoughtful in private. Still, it is dangerous to show as if he would rather not have them around. As a cricketer, one learns to accept that not everything written about you is nice. But you still need to cope and accommodate and can't get hot under the collar. Dravid needs to sound more honest in his appraisals. It could be the final frontier of his all-winning persona.
As a batsman, he is in the mould of a Steve Waugh or an Allan Border. These men might miss the flair of a Virender Sehwag or a Brian Lara, but once they sink their teeth, they don't let go easily. Once set, they can only be removed by exceptional methods. They move up and down the order with fluidity and grace, the reserves of energy and focus is exceptional. Once they get in, they make it count - just recall his double centuries.
In my book, he is the very best of Indian batting along with Sunil Gavaskar and Sachin Tendulkar. In record or in style, at home or abroad, on all pitches and all conditions, he is the very best. He even made a virtue out of wicketkeeping. Figures don't lie.
It's the destiny of efficiency to suffer in comparison with flair. Thus even though most of the headlines went to Tendulkar or Sehwag in the last five years, it was Dravid who was of utmost value to an Indian side. It's a journey similar to Anil Kumble, only your opponents know your worth. It's an irony that statistics which are held in front to condemn a few, are never cited to emphasise the value of others.
It's not easy to explain what drives such men. As one who has also played over 100 Tests stretching deep into the next decade, I know my motivation simply was to turn out in my country's colours. Nothing beat the feeling, it never failed to get me going. Dravid by his conduct has shown that it's the pursuit of excellence, and not fame or money, which has driven him all along these years.
Now that he is India's captain till the next World Cup, my unsolicited advice is he should not ignore his batting. The demands will hang on his time like a pall of dark forebodings. It could stop him from working on his batting; it could force him to seek short-cuts. It never works. He has to keep working on his game.
Dravid is still the work of art in progress.