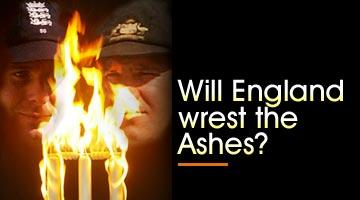 After a long, long time, Test cricket is on a high.
Ashes 2005 was billed as the biggest battle, and the first four Tests of the England-Australia series have played to form.
The tone for the series was set right at the beginning, when Justin Langer received a bloody blow on the elbow from Stephen Harmison. Langer fought on to make 40, and Australia, despite collapsing for 190 in the first innings, clinched victory in the first Test at Lords.
Though their aggression did not pay off in the first Test, England continued to attack. They sneaked to a two-run win in the second Test at Leeds after Brett Lee and Michael Kasprowicz brought the Aussies tantalisingly close.
Then Glenn McGrath survived with Lee for four overs in the third Test at Headingley as Australia sneaked to a thrilling draw.
But at Trent Bridge, England waded off terrific spells from Lee and Shane Warne to win the fourth Test, take a 2-1 lead and go ahead in the Ashes series for the first time since 1997.
All the while it has been England who have called the shots. Australia fought bravely but it hasn't been enough to tame a bright and fearless opposition.
Andrew Flintoff has been terrific and English skipper Michael Vaughan a soothing influence on his young team.
Australia has once again depended on their two talismanic bowlers -- McGrath and Warne -- to do all the work. The fast bowler has already missed half the series and the Aussies are desperate to get him back for the fifth Test.
The end of an Australian era may not depend on the result of the series, but the chinks have started to appear. The team is suddenly aware of its advanced age -- more than half the side is on the other side of 30. Matthew Hayden and Adam Gilchrist, two of Australia's most prolific batsmen, are struggling for runs.
England have the momentum; Australia the pedigree. Can the hosts end the agonising wait of getting their hands on the Ashes urn, or will the visitors deliver the knock-out in the last round?
Tell us what you think!