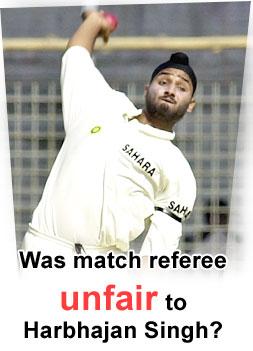 Indian off-spinner Harbhajan Singh was reported to the International Cricket Council for a suspect bowling action by match referee Chris Broad during the second Test match between India and Pakistan in Kolkata.
"The report relates specifically to the bowler's action when delivering the 'doosra'," said match referee Chris Broad.
"It was noticeable to the umpires and me that there was an apparent change in action when bowling this delivery between the first innings of the match, when no concerns were raised, and the second, which then prompted the report to be made."
The ICC had cleared Harbhajan's action on March 3 by their imprimatur -- bio-mechanics expert Bruce Elliot and his team at the University of Western Australia.
Do you think Broad has been unfair to report Harbhajan only 18 days after he was given a clean chit by the governing body?