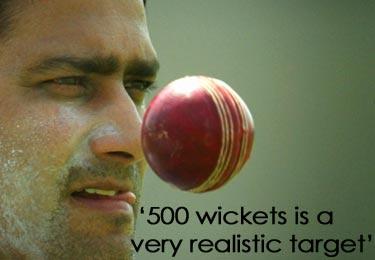 In January 2001, Anil Kumble's shoulder went under the surgeon's scalpel. The surgery was successful, but it was virtually impossible to say when the ace leg-spinner would play international cricket again. His arm was in a brace for five weeks, and for three months he could not even raise his bowling arm. There are many who would have given up at that point; but not Kumble.
Challenges have been a constant companion in his career. The shoulder injury was just another. His teammates call him 'Jumbo', not just because of the bounce he extracts from the deadest of pitches but also because of the great heart he has.
Kumble took that setback in a positive manner, believing that the injury allowed him to look at life itself. As a cricketer one tends to live life out of suitcases and the enforced time-off allowed him to do a lot of soul-searching.
"It was difficult; very difficult. Probably one of the worst phases of a sportsman's career to be in a sling for five weeks and not be able to raise your arm for three months. It is not easy but I guess that is what makes you tougher. It is at this point, that I'd like to thank my wife, family and close friends because without their support I might have thrown in the towel."
It is said spinners, like fine wine, tend to improve with age. Kumble is probably one of the best examples of that adage. Senior Cricket Correspondent Ashish Magotra caught up with India's leading Test wicket-taker.
In a very different sense, what you achieved up to that point (injury) would have been a great career for a lot of people. One always wonders what made you return to international cricket. Was it an itch you had to scratch?
It was something that I believed in. I wanted to give it a shot. I had bowled with pain in the shoulder for a long time, so the thought of being able to bowl without the pain was enough motivation. It just made me feel that when I have been pretty successful bowling with the pain, with a stronger shoulder I can do even better.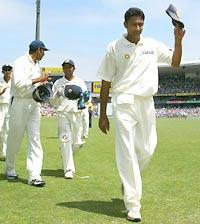 You have always been a very patient bowler, but have done differently in the recent past that has seen you get so much success?
I don't really think I have changed a lot. Of course, the experience of playing for so many years and in different kinds of conditions has helped in assessing players and trying to bowl differently to each batsman and set specific fields for them. And at the end of the day, I guess getting older also makes you a bit more patient than one used to be. Also the fact that we have also had good totals on board does matter a lot.
You are a veteran on the international circuit. In your opinion, what is the biggest difference between the team now and the one you made your debut for in 1990?
In terms of talent, I don't think there is much of a difference. Yes, there are a couple of more talented players but probably the key difference is the work ethic and the fitness. We have gelled as a team as we have gone along and also the fact that we have been able to produce good results abroad has made us stronger.
International cricket has changed a lot in the last decade as well.
One obvious change is way people approach batting -- a lot more positive these days. The other noticeable change is that the pitches are a lot flatter in the last three or four years. You basically get the same kind of track wherever you go. There is a little difference in terms of bounce and turn, but overall there is not much in it for the spinners. In fact, even the Sydney track doesn't deteriorate the way it used to before. So things have changed in that sense and you need to make the required adjustments if you need to keep taking wickets.
The batsmen being positive: is it something that perplexes you or do you feel it gives you a better chance?
It does give you a better chance for sure, but cricket is judged only in terms of average, strike rate and in terms of how many balls you take to get a wicket. And that's the unfortunate part. So the averages tend to get a little ruffled up and I am not somebody who is really bothered about that.
Shane Warne announced his retirement from ODIs in a bid to prolong his Test career. Have you thought on similar lines as well?
No, not really. I think it all depends upon on individual-to-individual basis. Just because Warnie is doing it doesn't mean everybody should do it; vice-versa, just because someone else hasn't done it doesn't mean you should. It's something that is a very personal thing and probably Warnie has realised that he needs to concentrate more on Test cricket. But that is something I haven't really thought about. Probably at some point I will think about it, but not right now. I'd like to take it one game at a time.
Wicket-keepers have always had trouble against you. Who do you feel was the best Indian wicket-keeper you kept to your bowling?
I think that is a very difficult question to answer. I have seen a lot of wicket-keepers come and go. It's not easy; wicket-keeping is a tough job, but you know the people who kept against me for a longer time -- Kiran More (3-4 years) and Nayan Mongia (6-7 years). So if you judge with regard to time then I think those two were the best.
In the recent past, I guess Parthiv (Patel) has had a tough time. But he is very young and I feel playing domestic cricket will give him a lot of confidence. Dinesh (Karthik), in his short time with the team, has looked pretty good but 'keeping against me is not easy.
Have you ever thought of cryptic signals of some sort to alert the wicket-keeper about your plans?
I don't think you try and do that, but over a period of time, the 'keeper gauges what the bowler is trying to do. I generally try to bowl one-on-one with the 'keeper and bowl all the deliveries in my arsenal so that he can have a good look. If I am trying to set up someone then I might go up to the keeper and say that I might bowl down the leg side. That's where you feel that if the 'keeper has a longer stint, he will read you better.
My first memory of you is the time when you were bowling in tandem with Venkatpathy Raju and Rajesh Chauhan during the nineties. India, at that point, seemed unbeatable at home. Is that your favorite phase when you were rising up or would you say now – with a few victories abroad under the belt -- is better?
Each person has to evolve as a person and as a cricketer. And that was a very good phase when it came to registering victories at home. I think Raju bowled very well but I got a lot of credit for the victories. But Raju and Rajesh deserve equal credit for their efforts. The three of us combined well and, most importantly, we got runs on the board that helped us put the pressure on the opposition.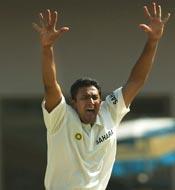 Things have changed, plans have change, wickets have changed. So a lot has changed. In that way, we have had some good victories abroad and our performances in Australia and Pakistan were very satisfying. Team victories definitely give you a lot more energy and motivation to do better. In the nineties, we had a lot of victories at home, but not too many abroad. Now we have had a few victories abroad as well and that makes one feel that we have evolved for the better.
You have played a majority of your career under two captains -- Mohammad Azharuddin and Sourav Ganguly. How do they differ as captains?
I think each one has his own style. I think, with me, I have always commanded the respect of my captains and I have always set my own field. The first Test I played under Azhar, he never came up to me and said, this is the field I think you need to bowl to. I have always asked for my field and I have always got it. I may have gone wrong a couple of times with my field placements but you only learn. But, as captain, I think each one has his own way of handling things and at the end of the day it is the results that matter.
Is Ganguly the most aggressive skipper you have played under?
I don't know what aggression is. Aggression is something you have within and everyone needs to be aggressive. Some people show it and some people don't. Sourav has been successful with his style of leading the team and showing the aggression on the field and sometimes off the field as well. I think it is not nice to compare. But the thing in Indian cricket is that you always compare. It doesn't matter what the style is. You generally have a perception and everyone feels that success has come only because of that one thing.
It has been a while since you became India's leading wicket-taker in Test cricket. Has the feeling sunk in?
In sports, one generally tries to raise the bar for those to follow. You always compete to set a new target for somebody to achieve. I have realised that I needed to put in 15 years of bowling and efforts, which were not mine alone.
In a team game, everybody's contribution is very important. So, for an Indian bowler, 434 was the target to achieve. 500 is a very realistic target that I am now aspiring to achieve.
Next: Kumble on the upcoming Pakistan tour