Kerry Packer, Australia's richest man whose fierce business reputation dominated corporate Australia and whose companies control one of the nation's major media groups, died in his sleep overnight, his family said.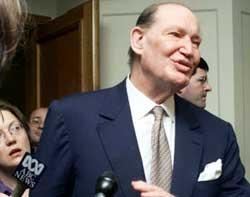 Packer's Channel Nine television station in Sydney said his wife Roslyn had issued a statement saying the 68-year-old billionaire died peacefully at home in his bed.
"Mrs Kerry Packer and her children James and Gretel sadly report the passing last evening of her husband and their father Kerry," said the statement issued on Tuesday.
"He died peacefully at home with his family at his bedside. He will be lovingly remembered and missed enormously."
The statement did not give a cause of death. Packer, with an estimated wealth of A$6.9 billion (2.9 billion pounds), was 68.
Packer owned about 30 percent of Publishing & Broadcasting Ltd., which operates Australia's Channel Nine television network, publishes a swag of magazines, and has interests in Australian casinos.
In 1990 Packer suffered a heart attack while playing polo in Sydney and was clinically dead for eight minutes until emergency medical officers revived him by electric shock treatment.
"The good news is there's no devil. The bad news is there's no heaven. There's nothing," Packer said after the incident.
At a height of 1.9 metres (6ft 2in), Packer's bulky physique helped make him one of Australia's most recognisable and feared public figures. But health problems have dogged Packer for many years, seeing him undergo heart surgery and a kidney transplant.
"He was a great Australian. He was a larger than life character. In so many ways he left his mark on the Australian community," Prime Minister John Howard told a news conference.
"Despite his wealth and his business power he had a great capacity to talk the language of the common man and to understand what that person thought. Kerry was a forceful bloke. That's what Australians liked about him." Packer was one of Australia's toughest and shrewdest business operators who didn't suffer fools, but he was also one of the country's most generous philanthropists.
Media rival Rupert Murdoch, chief of News Corp who started his global media empire with one Australian newspaper, praised Packer as a competitor and friend.
"He was the most successful businessman of our generation," said Murdoch in a statement.
"As a broadcaster, he had an uncanny knack of knowing what people across the country were thinking and this finely-tuned antennae made him the best broadcaster the country has seen," said Murdoch. "Australia will not be the same without him."
Packer had two great passions -- sport and gambling.
He was the country's biggest punter, wagering millions at a time at racetracks and casinos, and turned the cricket world upside down with his World Series revolution in 1977.
"One-day international cricket is now an international phenomena as a result of Kerry Packer," said Cricket Australia's current chairman, Creagh O'Connor.
The Australian and South African teams observed a minute of silence for Packer before the resumption of play in their test match at the Melbourne Cricket Ground on Tuesday.
Combining his love of gambling with business, in March 1994 Packer became a partner in Melbourne's Crown Casino. His media company's gaming arm now makes up about half of PBL's earnings.
Born in Sydney on December 17, 1937, and educated at one of the city's top private boarding schools, Packer learnt much of his business and media acumen from his media tycoon father.
On Sir Frank Packer's death in 1974, Packer took over the family media business and in the next decade expanded the private family company Consolidated Press Holdings.
"You were dealing with an animal force, a quite strong persona," said former Channel Nine finance journalist Michael Pascoe who interviewed Packer three times.
"He could be quite charming and he could also be a total bully...you never knew what was coming next, whether it as going to be a pat on the back or a backhander."
In 1994, Packer merged Consolidated Press and his network television holdings to form the listed PBL. Continuing the family tradition, Packer delegated increasingly to his son James who is executive chairman of PBL.