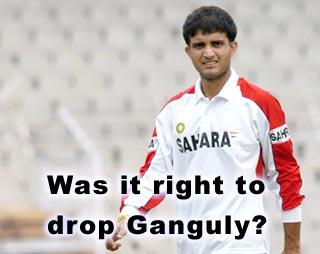 In a bizarre move the Indian selectors dropped Sourav Ganguly for the third Test against Sri Lanka in Ahmedabad.
The deposed India captain was given just three innings to prove his worth, out of which he performed in two. But the selectors felt he was no longer needed and included Mumbai opener Wasim Jaffer in his place.
Everyone who saw Ganguly's performance in the two Tests he played against the Sri Lankans will certainly feel the sacking is unfair. The left-hander had worked hard in the nets and the results showed not only in his batting but also his improved fitness and fielding.
He is 33, but one feels he has a couple of years of cricket left in him. He still boasts of a healthy average of around 40 in both versions of the game and is known to win games on his own, when in top form.
His place in the team will now be taken by a much younger Yuvraj Singh.
Do you agree with the selectors' decision to drop Ganguly? Have your say.