After the disaster in the Bangalore Test the other day, the time has come to ask the question: do our cricketers earn their keep? Be honest. Which group of professionals in this country is granted the equivalent of an annual contract of five million rupees, a fee of two hundred thousand rupees per Test match plus freebies, and then goes on to perform like the nincompoops in flannels we saw at the Chinnaswamy Stadium?
Brutally bad umpiring, form of the moment, and Tendulkar's enforced absence are no doubt extenuating circumstances. But how is it that Australia's performance was not a bit affected by the absence of Ricky Ponting, who is their counterpart of Tendulkar? How is it that even on the slow, unhelpful pitch of Bangalore, McGrath, Kasprowicz and Gillespie turn our vaunted batsmen into hopping monkeys? And they did it almost with fast medium bowling that had only one direction: incoming to the right-hander. Think back: how many outswingers did you see from the Aussie bowlers? None.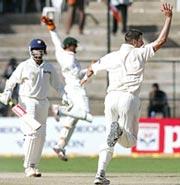 The basic point, one submits, is the basics of our cricket are all wrong – have been wrong, in fact, for quite some time. Our successes of recent seasons have glossed over the failings and our emotions have prevailed over reason: we have chosen to gloat over our few triumphs and turned a blind eye to the conspicuous inconsistency in performance marked by disturbing troughs and peaks.
Look at our fielding. Parthiv Patel's wicketkeeping remains substandard even after being a regular in the team for several seasons now. But our selectors just don't seem to find any other wicketkeeper who is better. And even if they do, as they found in Dinesh Karthick, the captain, Sourav Ganguly, wants Patel and Patel only – for reasons no one has dared to pin him down to. Yes, Patel's batting is a plus point, but which cricket intellectual prefers a batsman-wicketkeeper to a wicketkeeper-batsman? And isn't Karthick himself a good bat?
Our critics, or rather publicists, are such that Yuvraj is considered an absolutely brilliant fielder, a veritable Jonty Rhodes II. Nobody ever notes the number of times that Yuvraj tumbles and falls as he reaches for the ball, invariably getting a grip on it only at the second or third attempt. And just how many fielders of ours can throw straight and fast from the boundary line to the bowler's end or to the keeper? Incidentally, how many of the fanatic believers in our cricket team know that Australia's Kasprowicz throws in with his left arm, and very well at that, because, after injury to his right shoulder, he practised incessantly with his left hand? That's dedication.
McGrath's phenomenal accuracy is another example of dedication at work. But our bowlers? Can any one of them, just any one, pitch six balls of an over on the same four square feet of the pitch in the manner that the Australian does? The kind of accuracy that McGrath displays in match after match is not a gift of providence; it is rooted, instead, in the man-made formula of practice, practice, practice. How many hours a week does Agarkar, for instance, sweat it out at the nets pitching the ball on a coin in line with the off-stump? But he's on a cricket board contract of 3.5 million rupees a year plus two hundred thousand rupees per Test plus one hundred and fifty thousand rupees for every one-day match. Does he earn his keep? Does he, when his alleged all-rounder's batting continues to be as reckless as it always inherently was?
Strangely, our bowlers' lack of accuracy is not a topic of analysis for our large band of cricket statisticians. This writer is still waiting for a response from a certain cricket correspondent who promised to tabulate the proportion of maiden overs notched by our bowlers in the last five years of Test and one-day cricket in comparison with the similar proportion of bowlers of other countries in each of those two categories of contests.
Finally, there's our batting – repeatedly trumpeted in the last few seasons as being the best line-up in the world. "Best", we say, and we don't have a reliable opening pair. The situation there is so bad that our captain thinks that one slot there can be given to Yuvraj – the left-hander who instinctively pokes his bat at balls leaving him outside the off-stump.
That is just not acceptable technique for a Test opener. Nor is it acceptable technique for the unfit Laxman to just lazily put his left foot out to a spinner or to seek to steer every ball on the middle stump towards the mid-wicket region instead of playing it towards the V-area in front.
It is naïve to believe that a cricket consultant can remedy such technical defects in the course of a few sessions before a Test. Even the great Gavaskar cannot bring about that miracle. Rather, the remedy lies in practice and gallons of sweat at the nets. Has anyone ever cared to ask John Wright what exactly his 'coaching' has comprised since he got the job three seasons ago? If Ganguly's running between the wickets continues with him putting his bat inside the crease instead of stretching it across the crease, just what coaching has John Wright given the Indian team? Has he really earned his keep?
Our team has got a coach, a physical trainer, a physiotherapist and now a consultant on top of millions in cash. Just what more should we give them? Ten million rupees a Test?
Perhaps what we need to do is to revert to the system of amateurs who were ready to die for just the honour of representing the country. An uneducated father of three has what may be a better idea: pay our players strictly on the basis of runs scored, catches made, and wickets taken. That's the way they'll truly earn their keep.