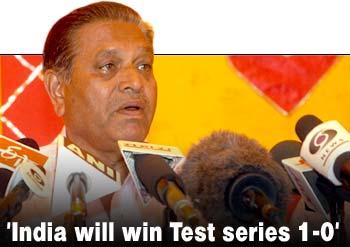 Chandrakant Gulabrao 'Chandu' Borde is a legend to many who grew up in the 1960s.
A quality all-rounder he scored 3,061 runs in 55 Tests, leading the side just once (he captained India in place of the Nawab of Pataudi against Australia in December 1967 at the Adelaide Oval). He also took 52 wickets with his leg breaks till a shoulder injury forced him to concentrate on being a batsman.
After retiring from the game, Borde had two terms as chairman of the selection committee, from 1984 to 1986 and 1999 to 2002, and was manager of the Indian team when it last toured Pakistan in 1989.
On the eve of another historic tour, in conversation with Faisal Shariff, he looks back on that series, and offers his predictions for the one coming up.
What were the problems the team faced on the 1989 tour?
It was a terrible start to the tour when we had to abandon a game at Karachi because of crowd misbehaviour. At that time the Pakistan players had lost a few quick wickets and one of those was [Javed] Miandad's, who was the hero of Karachi. The people were too upset after that dismissal and disrupted the game.
Was the stone-throwing incident the main reason for the stoppage?
Yes, that was one of the main reasons, but it was not the only reason.
[Mohammad] Azharuddin, who was fielding at the boundary line was hit with a metal kind of hook. He showed it to us. Another incident was at Peshawar, where a scuffle broke out between a spectator and our captain, [Krishnamachari] Srikkanth. It was all over the papers in Pakistan and India.
He [the spectator] came and pushed Srikkanth after screaming some obscenities at him. I was outside the boundary line and don't know what exactly was said. But then everything flared up. That's why the match had to be stopped.
What are the daily pressures one has to face in addition to the on-field pressure when playing in Pakistan? How was it on the 1989 tour?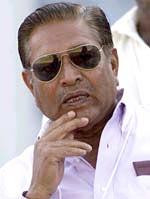 The pressure of playing against Pakistan in Pakistan is always filled with the mental tension to perform well. The hostility of the home crowd, the pressure of your people back home, all add up to build the pressure on you. In 1989, Pakistan had a good pace attack, comprising Imran Khan, Wasim Akram, Waqar Younis and Aaqib Javed. All of them were great bowlers. The wickets were absolute green tops. The pressure was on the batsmen -- how to cope up with that kind of bowling on those wickets.
Overall, the media coverage builds up the pressure, increasing expectations, which scares the player.
Did the players go out of the hotel then for sight-seeing?
We rarely went out even at that time. Unfortunately, there was the Babri Masjid episode, so that tension was all around. Of course, the people were very nice to us, but we could not go out when we wanted. We were advised against inviting any untoward incident. So that is why we used to be at the hotel most of the time.
It must have been frustrating for the players. As manager, what did you do to keep them going?
It can be frustrating, no doubt. But in Pakistan we have to just move as the authorities tell us. So the players were chit-chatting with each other. The Indian embassy looked after us very well. Mr  (J N) Dixit was the ambassador then. All the embassy people used to come and invite the boys to their homes to have Indian food. The South Indian boys did not get curd and rice and, therefore, they used to go to their homes.
Do you have any funny memories from that tour?
In the Sialkot Test, the two umpires went on to the field and asked the groundsmen, `Where is the wicket?'
There was thick grass on the pitch. It was the last match and Imran [Khan] was so furious with his players. Lot of people thought Pakistan would walk away with the series, because of the four great fast bowlers they had. A lot of people didn't give us a chance of even drawing the series. Imran was hell bent on winning the Test, but our boys put a good fight.
In that Test, I remember, Vivek Razdan took five wickets, Kapil Dev three and Manoj Prabhakar two. And we got them out for 250 in the first innings. We scored around 350. In the second innings they [the Pakistanis] were really charged up and could not digest the fact that we performed so well.
Would you say that the fourth Test, though it was a draw, was a victory for the Indians?
Imran Khan said exactly the same thing in the last speech he gave in Lahore. He said, `It was a victory for the Indian team that they could draw the series on our side.'
What do you think went into that series? How come India did so well? We did not lose a single Test.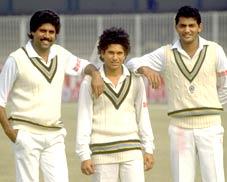 Our boys were determined to perform well. I mean, look at the Lahore Test: Sanjay [Manjrekar] batted well and got around 200; beautiful batting. [Navjot] Sidhu also got some runs.
In Karachi, our bowlers bowled really well. Manoj bowled very well and Azhar took some brilliant catches. The boys were fighting it out on that tour; they wanted to stay there and perform well. That is why our team performance was very good.
What were your responsibilities as manager? There were no coaches at that time.
I was the coach, I was the manager. I was everything there; not like this tour, where they have a bowling coach, a batting coach, a video analyst, a physical trainer, and a physiotherapist.
I was very happy though that I was doing it single-handedly.
It was Sachin Tendulkar's first Test series. What memories do you have of him?
On that series he performed extremely well. He got two fifties and some useful thirties.
Waqar Younis hit him on his face, yet he didn't budge. After that he scored 50-odd runs. He fought well; with courage.
We could feel that here is a boy who had something different from the others. At such a young age to bat with such guts and determination is a rare thing, because at 16 years anybody would have got scared.
To be hit on your face and continue to counter the best bowlers without trembling required special talent. Here was a boy who performed with determination. It was a gutsy performance.
What's your prediction for the upcoming series?
They [Pakistan] may be having a quick attack, but recently the Indian team did play well against Australia, which also had a quick attack. So that should not be a worry. Only our bowling should click.
Lahore is a good batting track, so there won't be any result there. In Multan, we did not play last time, so I don't know the wicket. The Rawalpindi wicket is also batsman-friendly. We have a better chance. It could be 1-0 in India's favour.
One-day cricket is a most unpredictable game. How you play on that day decides the result. So, it's the most unpredictable thing; it's difficult to predict who will win the one-dayers.
Photographs: Getty Images