Playing his third Test, Asim Kamal scored a mature 73 off 142 balls and guided Pakistan to a handsome 202-run lead over India in the second Test at Lahore.
After five seasons of domestic cricket, the Karachi boy believes he is finally on the way to accomplishing his father's dream.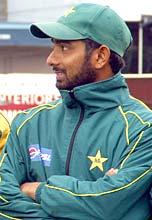 "Abbu chahte hai ki main Matthew Hayden ka 380 runs ka record pura karu [My father wants me to break (Aussie batsman) Mathew Hayden's record of 380 runs]," Kamal told rediff.com.
Kamal's father is partially blind and requires dialysis twice a week. He is suffering from a kidney disorder since Kamal started playing domestic cricket in 1997.
"We struggled a lot financially because of my father's illness. My mother handled the entire situation. I pray that everyone gets a mother like mine," he says, informing that his mother, a school principal, has gone through a lot of hardships to bring up her five sons and a daughter.
"I have been waiting for a chance to play for my country. I don't set small goals for myself. I want to get to that record [Hayden's] just for my father."
Kamal is only the third player in the annals of Test cricket to be dismissed on 99 in his debut Test. (Robert Christiani and Arthur Chipperfield are the other two)
He was dismissed for 99 against South Africa, at the Gaddafi Stadium, but he feels that though the knock was an important on, because "a first is always a first", his innings against India will be his best. Of course, till he gets to the world record.
"I would rate this innings higher than the 99, because I played freely here. There was no pressure. I was confident when I walked out to bat," he says.
Kamal said even when Yousuf Youhana and Inzamam-ul Haq were going great guns he was mentally prepared to get out in the middle and bat if wickets fell quickly.
"That's cricket. You have got to be prepared for whatever situation. And if you can handle it you are through."
He admits there were phases in the innings when he did not punish half-volleys and full tosses because he realized the importance of his wicket at that juncture.
"I had to bat slowly and complete the target we had set in our minds," he said.
He, of course, believes that his strength of staying at the wicket and making others bat around him has become a barrier in his candidature for the one-day side.
"I don't believe that I am not cut out for one-day cricket. You have to stay at the wicket even then. Right now there is no place in the side but I will pull my place in the one-day side. I am working very hard on my fielding. It has to be extraordinary if I have to make it to the one-day side."
Inspired by the likes of Saeed Anwar and Brian Lara, the left-handed Kamal revealed that batting against India was the most special moment of his career and he would cherish it forever.
"A performance against India is great. Uska alag maza hai [the satisfaction is different]. Indians are world class players and I have a lot to learn from them."
Once the Lahore Test is over he hopes to meet up with some of them and ask for guidance. "Their [Indians'] class is something else.
Sachin Tendulkar sach mein banda hai. Itna world class player hai magar zara sa ghamand nahi hai. Sach mein wo world class banda hai [Tendulkar is really cool player; despite being so great he has no airs about himself]," he says, completely in awe of Tendulkar.
Kamal shares a special relationship with India.
"All my relatives from my father's side are from India. Most of my aunts stay in Lucknow and Gorakhpur. I came there as a child when I was 10 years old. I wish I can visit India sometime soon."
A good showing henceforth will certainly earn him a trip when Pakistan tours.