New Zealand drew the first Test at Ahmedabad thanks to a fighting unbeaten 103-run stand between Nathan Astle and Craig McMillan for the seventh wicket.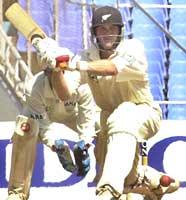 India squandered a golden opportunity to win the Test after having the Kiwis on the mat at 86-4 at lunch on the fifth day.
When both captains agreed to call it a day, New Zealand were 272 for 6. McMillan was unbeaten on 83 while Astle got a half-century just before play being called off.
Kiwi skipper Stephen Fleming said he considered the draw as a victory and expressed happiness with his team's performances.
Sourav Ganguly's captaincy was unimaginative. He set defensive fields for a good part of the day despite defending a huge target.
While India dominated most sessions of the Test, it was New Zealand who played the key sessions well and ensured they would go into the second and final Test at Mohali on equal footing.
In many ways, India will be unhappy with their combined performances. Letting the last four Kiwis bat for 48 overs, during which they added 104 runs, in the first innings, cost India a lot of time in their bid to bowl them out in the second innings.
Morning session:
A visiting team is facing the daunting task of chasing 322 runs with nine wickets in hand on the last day of a Test. The slowness of the wicket would embarrass a snail. You have two proven spinners who can take advantage of the powder bowl.
As captain of the home team what would you do?
Press both of them into action as soon as you can.
Wrong. India's skipper Sourav Ganguly persisted with seam bowlers Zaheer Khan and L Balaji for a good part of the morning session, with a fine sprinkling of Harbhajan Singh.
There was no sign of Kumble, the only bowler who made the ball bite last evening and dismiss Mark Richardson, till the first 45 minutes of the day.
For a moment, overnight batsmen Lou Vincent and night-watchman Darryl Tuffey were batting with ease. The first ball that Kumble bowled skid through Tuffey's defence and dislodged the bails. India finally struck. But was it a trite late?
Tuffey returned to the pavilion for 8 after using up 32 balls; a job well done. (68-2)
The Harbhajan-Kumble combine finally came into play and the strip metamorphosed into a snake pit, with balls spitting off good length and a mob of close-in fielders clouding the batsmen at the crease.
Fleming was aware that the run-rate was dwindling and if he had to make a match of it he had to attack. After facing a couple of deliveries he realised that the battle was for survival. The victory plan was cached away for another Test or, maybe, another tour.
Harbhajan Singh loves a challenge and seeing Kumble pick another wicket, hit back with the prize wicket of Fleming. The ball kicked off good length and hit Fleming on the gloves, allowing VVS Laxman to snap the ball millimeters off the grass.
New Zealand at 85-3 and with Richardson and Fleming back in the hutch had all but given up hopes of a win.
Kumble, bouncing around and bowling with the vigour of a debutant who tastes blood for the first time, rapped Scott Styris on the pads and celebrated as umpire Rudi Kuertzen's dreaded finger rose slowly.
Styris was gone for a duck and the Kiwis were reeling at 86-4.
The stadium, which was pallid until then, suddenly came alive.
Sachin Tendulkar's introduction into the attack made batting even tougher for the Kiwis.
India sensed victory. Runs did not matter. Two more sessions were to be played and six more wickets separated India from a win.
Post-lunch session:
The harder he works, the luckier he gets.
Kumble scratched the surface of his experience vault and pulled out another sterling performance to help India close in on another Test victory at home.
A rank long hop from Kumble, begging to be punished, got India their first breakthrough after lunch. Lou Vincent, on 67, who was the only Kiwi to fly against the Indian tide all morning, shaped to smash Kumble through covers only to inside edge the ball onto this stumps.
Vincent shut his eyes and hit the turf with his willow, realising his dismissal could cost his team the chance of saving the match. He had patiently, since last evening, played out 183 balls before the 184th tainted his defence.
Vincent had just completed his half-century after gently sweeping Kumble to the fine leg fence.
McMillan's temperament was unflappable. Despite the loss of wickets at the other end, he continued with his stroke-making and scored his second half-century of the match. His innings, predominantly dominated by on-side strokes, was as fluent as any we have seen at the Motera, more in terms of quality than quantity. That honour would go to Rahul Dravid for his 222 in the first innings.
Nathan Astle, who was indisposed this morning, dropped down the order, promoting Jacob Oram up. Oram, who scored a hundred in the side game against India "A', struggled against the Indian spinners. After smashing Harbhajan to the fence he was caught trying to cut the offie and instead offered a simple catch to Dravid at first slip. Oram was gone for 5 off 50 balls and New Zealand had lost their sixth wicket for 174.
It was surprising that Ganguly who had Sehwag and Tendulkar as spinning options failed to use them well.
Tendulkar was used for three overs that went for 19 runs. But he turned the ball more than any other spinner in either team. McMillan failed to read his googlies and was at sea against him. Sehwag bowled a single over in the entire innings just before tea, which was baffling.
Ganguly opted for the new ball and let Balaji have a go at the Kiwis, who were growing in confidence.
New Zealand went to tea at 195-6 with McMillan on 56 and Astle on 16.
Post-tea session:
The Indians went out to defend 175 runs off 27 overs with the last recognised Kiwi batting pair of Astle and McMillan at the crease.
The advantage was with India. There was no way the Kiwis were going to go after the target at an asking rate of 6.48. It was the perfect opportunity for India to move in for the kill without worrying about the runs. But instead of attacking and crowding fielders around the batters, skipper Ganguly chose to set defensive fields and switch bowlers with complete lack of imagination.
Ganguly's template driven captaincy was the real culprit in India drawing the Test eventually as was India's slow batting on day one of the Test.
Modern day Test cricket is about scoring quickly, setting attacking fields and giving yourself enough time to bowl the opposition out twice.
Last year Australia scored at a rate of 3.99; this year they have batted at four runs per over. Is it any surprise that they are the best cricket nation in the world?
Brothers-in-law Astle and McMillan saw the entire post tea session off without giving a sniff of a chance to the Indian bowlers. Their 103-run partnership only rubbed salt into India's wounds.
And that after Astle being indisposed this morning. He still had the stomach for a fight, as he showed with a fighting half-century.
Kumble and Harbhajan failed to make inroads into the Kiwi batting as did the seamers, Zaheer and Balaji, on a wicket which slowed down as the day progressed.