Time was when a team announcement by the national selectors would cause my blood pressure to shoot sky high. Since coming to New York, though, I find that such selectorial exercises are no longer the health hazards they used to be.
Distance lends enchantment to the view. Also, a certain detached amusement.
There was a time when team selection meetings took on the air of stand-up comedy. In the meeting, the five wise men would barter and negotiate and wheel and deal and finally come up with their names. The chairman of selectors would then face the media's probing questions -- and attempt to justify the various selections in ways that were more amusing than enlightening.
The BCCI, at some point, put its thinking cap on. We, they told themselves, are never going to be able to justify our bizarre decisions; trying to do so only underlines our collective folly. So, simple solution, let's just shut the media out entirely.
From that thinking sprang an announcement: the selection committee and its chairman, the BCCI announced, would no longer face the media and answer questions. Instead, the board secretary would simply read out the team list; take it or leave it.
Since that date some three years ago, we -- the fans of this game, the ones who put warm butts in the seats and big bucks in the board coffers -- have been taking it.
The latest exercise is no different. BCCI secretary S K Nair read out the names and announced that the 20 probables would be whittled down to the 16 member touring party this Saturday.
That is all he said -- and even that was time enough for the board official to put his size 10 shoes firmly in his mouth.
Just for fun, examine this part of his statement: "The 16 member squad for the tour, which will have four Tests, will be named after India's last league match against New Zealand in the ongoing tri-series in Hyderabad on Saturday.
"The selectors want to see the performance of the players on Saturday before finalising the team."
Now you know why the media is not allowed to ask questions. Had we been given that basic democratic right, we would have asked: Mr Nair, could you please tell us if the national selectors intend to pick the team for a Test tour on the basis of their performances in a one-day tournament?
Further, Mr Nair, could you please explain what inputs the selectors will get this Saturday on the form and performance of Akash Chopra, Sadagopan Ramesh, Deep Dasgupta, Irfan Pathan and L Balaji, none of whom will be on show on that day?
It would have been interesting, even amusing, to listen to Nair's response. But we are denied even that basic amusement by a spoilsport board and its 'yours not to question why' edict.
Makes you wonder, in passing – if the board is going to avoid the media, why then appoint a media manager?
The other day, I found a discounted DVD of David Blaine's magic performances; it includes several stunning card tricks, the most basic one being where Blaine invites you to pick a card from a pack, and then tells you what it is. The trick there, I am told, is not that the magician can read your mind, but that through sleight of hand, he makes you pick a card he has already decided on.
You are the best, his audience repeatedly assures him. I disagree. Compared to our selectors, Blaine is a rank amateur. Consider, for instance, the little card trick they pulled on us in the matter of the wicket-keeper.
| | |
| --- | --- |
| | Be The Selector! |
| | |
Here is how the trick is played: First, the selectors go through the usual patter magicians use to distract our attention. See, they said, we have a problem with the 'keeping; Parthiv Patel is good, but he is yet a teenager; we need experience; we need a quality wicket-keeper because we cannot afford to miss crucial chances.

Stage two of the trick was for our five magicians to show us, in course of the Challenger Trophy, various cards: Patel, Ajay Ratra and Thilak Naidu.

In stage three, the magicians briefly flashed the trick card -- Deep Dasgupta, in a warm-up game against New Zealand. "We are," the board secretary said at the time, "making sure we consider all options."

And now, in the penultimate stage, the master magicians force on us the card they actually want us to pick -- Deep Dasgupta, to give that card a name.

The 20 member list of probables has only two wicket-keepers in it; by raising questions about Patel's readiness for the big time, they have paved the way to pick two 'keepers; by ensuring that Dasgupta is the only other 'keeper in the probables list, they have ensured that there can be no debate about whether Ratra or Naidu would have been better choices.

So Dasgupta -- who, behind the stumps, is at best a glorified goalkeeper -- will almost certainly get a berth to Australia. Neat.

For just a moment, pretend you are one of the selectors. You have this list to work with: Sourav Ganguly, Rahul Dravid, Sachin Tendulkar, Virender Sehwag, Akash Chopra, V V S Laxman, Hemang Badani, Yuvraj Singh, Parthiv Patel, Deep Dasgupta, S Ramesh, Anil Kumble, Murali Kartik, Harbhajan Singh, Ashish Nehra, Irfan Pathan, Zaheer Khan, L Balaji, Ajit Agarkar, Aavishkar Salvi.

This is how the famous five will probably do it. Off the top, they will pencil in Ganguly, Dravid, Tendulkar, Sehwag, Laxman, Harbhajan Singh, Zaheer Khan, Kumble, Nehra. Nine down, seven to go.

They would then add Chopra, because they already tried him out as opener against New Zealand and he made a fair case for himself.

Parthiv Patel, because age and the recent tendency to fumble aside, he is definitely your first-choice wicket-keeper, especially when you consider the only alternative available.

Yuvraj Singh, because in picking him against the Kiwis, you indicated that you are considering him for Test status, and you have no grounds now to reverse that decision.

That's 12 down, four to go. You reckon that going Down Under, you need seamers (how having five seam bowlers will help in Australia any more than they helped in the West Indies, you won't ask yourself). So, you would pick Agarkar (because that is a Pavlovian reflex), Salvi (because you have already indicated you prefer him to, say, Balaji) and Pathan (as your nod to Generation Next, and a peg on which to hang some pious statements about your 'vision').

That leaves you one vacant slot. You will say that given it is a four-Test tour, it is counter-productive to go with just one 'keeper.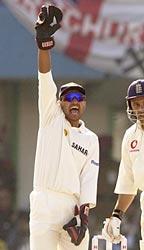 You will further point out that Dasgupta is an opener (in India, anyone who puts on pads and volunteers to go upfront is an opener -- at least until Sunil Gavaskar's BCCI-mandated excavations bear more lasting fruit). You will not ask whether he is an opener capable of coping with McGrath, Gillespie, and Lee, because it is not in your nature to ask yourself inconvenient questions.
And what is more -- and this is your real Eureka! moment -- you will argue that if Dasgupta opens and keeps, you then have the luxury of bringing in an additional batsman into the playing eleven! No question who wins the next Nobel for creative thinking.
And so, having found sufficient justifications, you will pick Dasgupta to round off your team. You will then avoid the media while the board secretary reads out the names, and adds a pious comment that Ramesh, Balaji, Kartik and Badani were seriously considered, and that when picking the side you had to keep the 'balance and composition' of the team in mind.
And with that, you would have done your magical illusion for the day. You wouldn't worry too much about whether you have done the right thing, picked the best possible team -- because you are none too concerned with the results.
| | |
| --- | --- |
| | Classic |
| | |
After all, was it not a famous former board secretary who chaired the selection meeting ahead of an earlier Australian tour, then came out of it to announce the team and later, asked about its chances, said with enviable insouciance: "I think we will lose 3-0"?

Wouldn't it be great if the selectors actually proved me wrong?

PS: This, of course, is prelude to the real fun; to wit, picking the playing 11.

You will ask yourself, is a four-member attack manned by Zaheer, Ashish, Bajji and Kumble (on the age-old theory that runs Indian cricket teams and government departments alike, that there is nothing like 'experience') likely to scratch the surface of the most devastating batting lineup in contemporary cricket, that too on their home grounds?

No? Oops, then we need five bowlers? And a wicket-keeper? Ouch! You mean we have to go into a Test against Lee, McGrath, Gillespie, maybe Stuart MacGill, with just five batsmen, including two openers, one of whom is wet behind the ears and the other is not exactly known for longevity at the wicket?

No can do. We need six batsmen. Plus a wicket-keeper. But that means we only get four bowlers, with which to cope with Hayden, Langer, Gilchrist, Ponting, Martyn... and a dozen other blokes who are even now queueing up for the chance to get some easy pickings.

Photograph: Getty Images