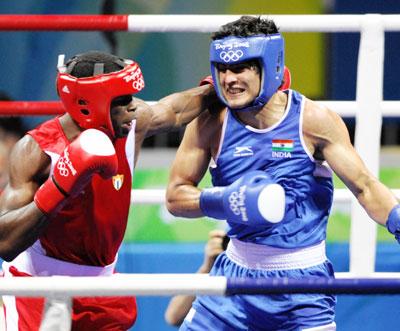 Indian boxer Vijender Kumar settled for a bronze medal at the 2008 Olympics after being out-punched by Cuban Emilio Correa Bayeaux in the semi-finals of the 75 kg category in Beijing on Friday.
The 22-year-old was simply out-thought by his Cuban opponent, who negated the height and reach advantage of Vijender by fighting from a safe distance to score an 8-5 victory.
- The world is now scared to face Indian boxers: Vijender
But even in defeat Vijender has made history, becoming the only Indian boxer to clinch an Olympic medal.
Vijender, who also won bronze at the Doha Asian Games, struggled to connect his punches and trailed from the start.
In fact, he failed to score a single point in the opening round, which ended 2-0 in the Cuban's favour.
Forced to play the catch-up game, Vijender recovered slightly in the second round as he reduced the deficit to just one point, ending the second round 3-4 behind.
Bayeaux stuck to his strategy of back-paddling after landing punches, most of which were straight and, more importantly, precise.
The Cuban's lightening fast reflexes thwarted Vijender's attacks and the Indian once again failed to score in the third round.
The decider saw a desperate Vijender on the offensive but the Cuban survived the brief assault, although earning a two-point penalty for committing a foul, leaving the scoreline 8-5.
Photograph: Getty Images