Lindsay Davenport hopes her remarkable return to tennis over the last two weeks will encourage other players to continue their careers after becoming mothers.
The former world number one, who gave birth to her son Jagger in June, came out of retirement last week to win her 52nd career title in Bali and continued her unbeaten run by reaching the China Open semi-finals on Thursday.
"It is an achievable goal for female athletes, many other females in sports have a baby and come back," the 31-year-old American told reporters.
"Now I just have to talk Kim (Clijsters) into coming back," she added with a laugh. "I don't think she has any plans to do it but we'll try."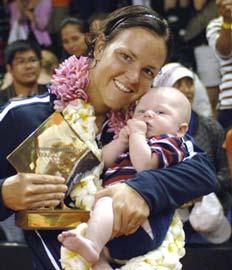 Former US Open champion Clijsters, who retired at the age of 23 in May, is expecting her first child in January next year.
Davenport said although it had been difficult at the start, looking after Jagger might even make her a better player.
"It's been really fun to do both," she said.
"At the beginning when I would leave and go and play tennis for a couple of hours I would have all this guilt.
"But I've learned that it's probably been good for both of us.
"I feel like my life on the road is more fulfilled now I have my son with me," she added.
"Once the tennis is over all my attention is on him and I think that helps me focus on the court."
Martina Hingis, another former world number one who made a comeback after retirement, was encouraged by Davenport's return.
"I saw her play and was thinking 'you're amazing'," the Swiss said.
"It kind of gives you hope, she was a great champion and she's still got the game. That's never happened before in the sport."
Despite her success, Davenport said she was nowhere near her best yet and that speed of reaction and anticipation had been the elements of her game that she had struggled most to regain.
"Just physically, your body is really different after giving birth and I'm definitely not back to where I was before," she said.
"It will probably take a few months ... I'm definitely not the fastest player out there so I have to rely on my anticipation."
The former Wimbledon, US Open and Australian Open champion plans to head home after Beijing and will play at most one more tournament in 2007.
"It's been a wildly successful trip for me whatever happens here," she said.
"For me it's just about the challenge of trying to get back to the top, of trying to win tournaments and being a force on the tour again."