With the Australian midfield making the move forward, even the solid Italian defence was breached frequently. But Gianlugi Buffon made the difference between the Socceroos dominating the game and getting in that all-important goal.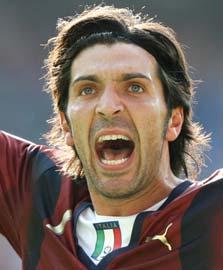 The Italian goalkeeper gave his team the rope by thwarting Scott Chipperfield's incisive attempts at goal. It was he who kept Italy in the game, hanging in for that one breakthrough or a stroke of luck.
Finally, it was to be a penalty kick in the last minute of stoppage time that took the three-time champions home, denying the Aussies, who were playing in the World Cup finals after 32 years, what would have been a well-deserved victory.
Buffon, who won the 'Most Valuable Player' and 'Best Goalkeeper' awards at the UEFA European Football Awards in 2003, saved a low, hard drive by Chipperfield from 12 metres in the 30th minute and again blocked a fierce left-foot drive from 10 metres to deny Australia the lead. He pounced on the loose balls, shouted instructions to his defenders and was fiery under the bar.
The 28-year-old goalkeeper, a brilliant shot-stopper, particularly from close range, and a cool customer in one-on-one situations, was named by Pele as one of the top 125 greatest living footballers in March 2004. He saved a penalty in the second-round match that the Azzurri eventually lost to Korea Republic at the World Cup in Korea/Japan 2002.
After his transfer to Italian club Juventus for record fee of 52.29 million euros (US $66 million), 'Gigi' has been part of the champion team in 2002, 2003 and 2005.
He began his career at Parma at the age of 17, and made his debut for Italy away to Russia in October 1997. He was a reserve goalkeeper in the Azzurri squad at France '98 but was forced to miss UEFA EURO 2000 due to injury. However, he was back for EURO 2004 in Portugal, when Italy suffered a first-round exit.
In August 2005, Buffon was operated upon for a dislocated shoulder, following his clash with AC Milan's Kaka during the annual match for the Luigi Berlusconi Trophy. He returned to the pitch in November, but played only once due to recurrence of the injury.