Two uninspired performances in Germany's opening World Cup games saw Lukas Podolski written off as lacking at least the nerve and perhaps the skill to live up to his reputation as the best German striker in a generation.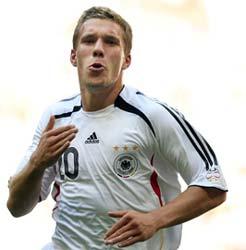 After a self-affirming goal against Ecuador and now a match-winning double against Sweden, the 21-year-old has shown he can provide the cutting edge that Germany have lacked since current coach Juergen Klinsmann was in his prime.
His partnership with the more creative Miroslav Klose was devastating on Saturday, taking Germany into a 2-0 lead by the 12th minute and ultimately a quarter-final against Argentina or Mexico.
"It was fun to watch the Klose-Podolski partnership," Klinsmann told reporters after the match about his two Polish-born strikers.
"They understand each other so well and they were fantastic."
Podolski, who was recently ridiculed by Germany's national broadcaster ARD in a radio show as "an uneducated boor", still speaks with Klose in Polish on the pitch.
'Poldi', whose family came as Ethnic Germans to West Germany in 1987, has been marked as the great hope for the future of German football, for his strength, pace, a lethal shot and absolute assurance in front of goal. The 21-year-old will move from Cologne to Bayern Munich next season.
He broke into the Germany team just before Euro 2004, but played just 45 minutes at the tournament.
The milestone tournament for him was the Confederations Cup, when he scored three goals in five games. The World Cup should show just why Germans are so proud of their young favourite.
German newspapers assumed Podolski, who turned 21 five days before the start of the tournament, would lose his place after missing a series of simple chances in the two wins over Costa Rica and Poland.
Klinsmann kept faith, however, and was rewarded by seeing the youngster slide in score the third goal in a 3-0 win over Ecuador that sealed their place as group winners.
It was clear from the start against Sweden that he had rediscovered his self-belief.
In the fourth minute, he lashed the ball goalwards and in off the hapless Lucic after Klose's run on goal had been blocked. Eight minutes later he took a clever pass from his colleague to double the lead.
Hundreds of thousands of jubilant Germans celebrated along Berlin's Fan Mile in the shadow of the Brandenburg Gate, chanting "Super Podolski" and "Final", confident that Klinsmann and Podolski can take his side all the way to the final in Berlin on July 9.