Patrick Vieira had been criticised for sluggish displays in France's first two outings at the World Cup that left the 1998 champions on the brink of elimination.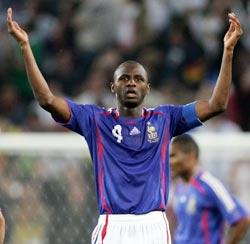 But on Friday, the Senegalese-born midfielder showed why he is reckoned as among the shrewdest in the business by scoring France's opening goal in the do-or-die match against Togo and then assisting in the second in a 2-0 victory that effectively sealed a place in the last 16.
Vieira's performance, coming on his 30th birthday, will be one to remember. It pulled France out of the woods. For 55 minutes it looked as if they would suffer the fate that befell them at them at the 2002 World Cup - elimination in the first round. Then came a moment of brilliance from Vieira. He received a pass from Franck Ribery and with a quick turn curled the ball into the corner of the net with his right foot.
Six minutes later he was again in the thick of things, heading down a high ball into the path of Thierry Henry, who bulged the net with a stiff right-footer.
A 1998 World Cup and Euro 2000 winner with France, Vieira was one of English football's most consistent performers since making his debut for Arsenal in September 1996. Last year, in a shocking move, Italian champions Juventus bought him for 20 million euros in a five-year deal.
The goals France scored on Friday were only their third since going out of the World Cup in 2002. French fans will now be hoping that Vieira's aggression upfront will continue and see the team through to the last eight when they Spain.