After two lacklustre outings at the World Cup, Brazilian goal-scoring ace Ronaldo finally held centrestage on Thursday in the 4-1 demolition of Japan.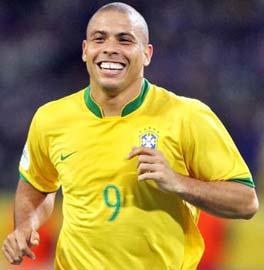 The Real Madrid striker scored his 13th and 14th goals, to outdo Pele as Brazil's all-time top scorer in the World Cup and equal Gerd Mueller's record.
Another goal will make him the tournament's all-time leading scorer.
Playing in his fourth World Cup, Ronaldo has now scored 66 goals in 102 matches for Brazil. Pele scored 95 in 114 matches.
Ronaldo -- Ronaldo Luís Nazário de Lima -- provided early indication that it could be his day in the seventh minute of the match when he side-stepped a Japanese defender inside the box and fired only to see Japan goalkeeper Yoshikatsu Kawaguchi stand in his way.
Kawaguchi was again to deny him a goal in the 20th minute when he stretched full to put away his stiff right-footer.
But the striker kept his cool and scored with a header in injury time of the first half before adding another goal to his name in the 81st minute with a right-footed shot from 20 metres that gave the Japanese goalkeeper no chance whatsoever.
The two goals would have relieved Ronaldo much of the pressure that was on him to perform at football's showpiece event.
Coming into the tournament he had to deal with a series of distractions, which included talk about him being overweight.
Ronaldo started playing football in the streets of Rio de Janeiro like many great Brazilians before him. He made his international debut for Brazil in 1994 in a friendly against Argentina.
Nicknamed `The Phenomenon, he played for Barcelona in the 1996-1997 season, scoring 34 goals and was later transferred to Inter Milan.
Injuries and poor form hampered his four years at the Italian club before he signed for Real Madrid in 2002 after a spectacular showing at the World Cup.
He enjoyed considerable success at the international level, winning the 1994 and 2002 World Cups with Brazil and was named FIFA World Player of the Year in 1996, 1997 and 2002.
He became the subject of much controversy after Brazil lost the 1998 World Cup final to France. He suffered a mystery fit on the eve of the match, but was still included and his lacklustre display in a one-sided final made him the scapegoat.
But he came back with a bang in the next World Cup in 2002 and scored eight goals to help Brazil win their fifth World Cup.
In 2002, he seemed out of sorts as he entered the finals, but gradually found his footing as the tournament progressed.
The same seems to be happening at this World Cup too. After a poor start, Ronaldo proved his worth with the two goals against Japan.
The whole of Brazil will be hoping history repeats itself and Ronaldo's magic can lift them to yet another title.