World champions Brazil laboured yet again but made it to the second round of the World Cup.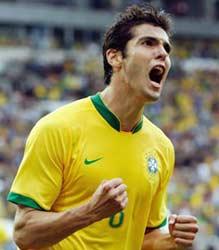 After the 1-0 victory against Croatia in their opening match, they overcame a battling Australia 2-0 to make sure of a place in the last 16 stage of the tournament.
With the great Ronaldinho being tightly marked and unable to work his magic, it was left to Kaka to find ways to open up the watertight Aussie defence. And the 24-year-old AC Milan medio responded admirably, repeatedly breaking down Australia's rhythm and then running down the right to provide fodder for his strikers.
Against Croatia he snatched the winner. On Sunday, he couldn't manage another goal, but did enough to unsettle the Australian defence.
Born in Brasilia in April 1982, Kaka -- full name of Ricardo Izecson Santos -- has rapidly developed as Brazil's playmaker. He was part of the Brazil squad that won the World Cup in 2002, but made only a brief appearance in the tournament against Costa Rica. But since then he has developed well as an enterprising utility man in both AC Milan and the Brazil team.
In 2003, his explosive pace, dribbling and precision finishing, saw him make the often difficult adaptation to Italian football look easy when he joined AC Milan from Sao Paulo and never looked back since coming on as a substitute in Brazil's opening World Cup qualifier away to Colombia in 2003 and scoring the winner in a 2-1 victory.
Brazil have yet to show the class that gave them the 2002 World Cup. In fact, but for moments of brilliance from Kaka the squad has had little to show from two matches. With the second round will come stiffer opposition. All of Brazil will be counting on the boy with a telegenic smile to keep firing.