Portugal's Brazilian-born playmaker Deco -- full name Anderson Luis de Souza -- was forced to sit out of the opening World Cup group match against Angola, which the former rulers of the African nation won by a slender 1-0 margin, following an injury to his foot during training.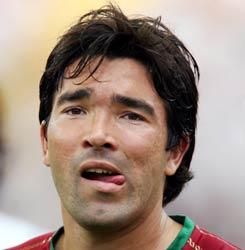 But on Saturday he returned to his rightful place in midfield with a vengeance against the Iranians in Frankfurt to orchestrate a 2-0 victory and seal Portugal's place in the second round of the competition.
In a match that saw plenty of physical play -- the Iranians preferring to go more for the man than the ball -- Deco kept his cool, avoided the hard tackles with feline grace and repeatedly split the Iran defence with through balls for his strikers to exploit.
The Barcelona medio showed how much he was missed in the opener against Angola when he broke the deadlock in the 64th minute with a stunning right-footer from 35 yards outside that put Portugal ahead, before Cristiano Ronaldo completed victory with a late penalty goal.
Deco's strengths were confirmed at Euro 2004, which saw Portugal finishing second behind champions Greece. Immediately he became one of coach Luiz Felipe Scolari's key players for the World Cup.
The 28-year-old played a central role in helping Barca win their first league title in six years last season and enjoying further success in the just-concluded season by retaining the Spanish title and beating Arsenal to win the Champions League in Paris. Recently he renewed his contract with the club until 2010.
Born in Sao Paulo on August 27, 1977, Deco came to Portugal in 1997 amidst doubts over whether he deserved to play for his adopted country. He played for Benfica and then Porto, where he won the Champions League, before joining Barca for 21 million euros on a four-year deal in July 2004.
Now, since making his first appearance against Brazil in 2003, he has done enough in midfield to silence the doubters.
Depending on the results of the final Group D games, Portugal will face formidable opposition in Argentina or the Netherlands in their first knockout encounter.  Deco holds the key to their passage to the next round.