Argentina playmaker Juan Roman Riquelme played the role of a midfield marshall to perfection as Argentina crushed Serbia & Montenegro 6-0 in a Group C match.
Riquelme failed to score, but masterfully distributed from midfield as Argentina delighted with one-touch football that left their opponents awestruck.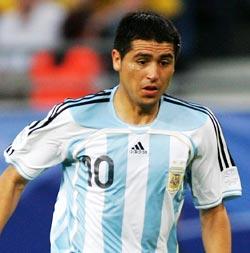 Deservedly, he was named the man of the match ahead of Maxi Rodriguez, who scored two goals and Hernan Crespo, who excelled upfront.
The crushing victory also installs Argentina as one of the favourites for the title alongside world champions Brazil and hosts Germany.
For Argentina coach Jose Pekerman, Riquelme is the central figure around which the team plays itself; a player who excels in pressure situations.
"Roman is a key player because he interprets on the pitch what we want," Pekerman said before the start of the tournament.
"People know what game Argentina play because we have Riquelme. It's a declaration of intent. His team mates know that when opponents pressure us and we don't have the ball, we give it to him and Roman distributes it," Pekerman told Argentine reporters at a recent news conference."
Born on June 24, 1978 in San Fernando, Buenos Aires Province, Riquelme's game is based on traditional South American ball skills. He lures his opponents out of position and hits on the break, something Pekerman favours over the more European approach of his predecessor Marcelo Bielsa.
It was not such a surprise that Riquelme, who inspired Argentina to victory in the 1997 World Youth Cup under Pekerman, had a difficult start in Europe when he arrived at Barcelona in 2002.
The coach at the Spanish club was Louis van Gaal who could not fit Riquelme into his tactics. Bielsa was an admirer of the Dutchman and he never found a regular spot for Riquleme in his Argentina side either.
Due to the club's struggling fortunes, there was intense pressure on Riquelme to perform well. He was unable to find his form, losing his place in the first team and was loaned to Villarreal a year later, where he currently plays alongside fellow-Argentine international Juan Pablo Sorín.
The 27-year-old, who made his name with Boca Juniors, won only 13 caps and scored once for Argentina before Pekerman took over from Bielsa in October 2004. Almost ever-present under Pekerman, he has won another 17 caps and taken his goal tally to eight in the 18 months since.
Riquelme lacks pace but he is not slow, his speed of thought and close control making him very difficult to take the ball off.
He finds team mates with precision passes and is also extremely dangerous with free kicks and penalty kicks -- although he lacked the killer instinct with a poor penalty against Arsenal in the second leg of the Champions League semi-final at the end of April.
His artisitic play also earned him a nomination for the 2005 FIFA World Player of the Year award.