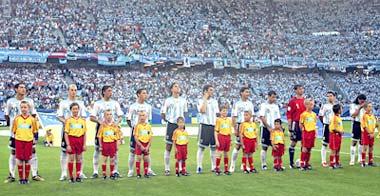 You know dada how it is in Bengal when it comes to watching football?! We are so passionate about the game that everything else, that is not important, comes later," Nilotpal Basu, Communist Party of India-Marxist Member of Parliament and the party's central committee member, told rediff.com on the telephone from Kolkata.
He would not have taken this call from Delhi if it had been about any subject other than football, he points out. Basu adds he is enjoying every moment of the World Cup. He has been watching all the matches at his home in Kolkata along with friends and relatives.
"I was a footballer myself. I played in the forward line for my school team at South Point High School (Ballygunj). It is incidentally one of the biggest schools in Asia even today. I scored a number of goals during my time!"
Basu would love to see a final between dream team Brazil and Argentina. Argentina, he says, is a good side, which deserves to win too.
Why Omar Abdullah supports England
"I could not see the game where Spain trounced Ukraine 4-0. I was told by my friends it was one of the best matches yet of the Cup."

The techniques of many players have impressed him. His list is endless. But Basu hopes Brazil plays a more interesting game in the next match. "Brazil (usually) takes that much time to unwind. I hope they come good in the next match. Ronaldo has not done as well as was expected of him. But they have enough good players to replace (even) their stars." he muses.
'Brazilian players enjoy their game'
Basu's day is reserved for work. But like any other football-crazy Bengali this month, the Marxist MP is glued to his television set after dark.
Photographs: Getty Images, Rediff Archives