Tim Cahill made history in dramatic style, scoring Australia's first goals in a World Cup finals on Monday. He scored twice in the last six minutes as the Aussies rallied from a goal in arrears to beat Japan 3-1 in their Group F opener.
John Aloisi completed Japan's misery with a goal in injury time.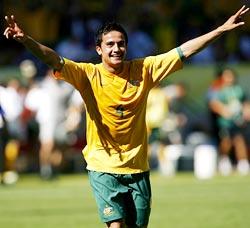 Not considered good enough by Dutch coach Guus Hiddink to start the match, Cahill, who replaced Marco Bresciano in the 53rd minute, scored twice when all seemed lost for the Aussies.
The Socceroos, playing in the finals for the first time since 1974, seemed headed for a certain defeat until Cahill's equaliser lifted their spirits. He levelled the scoreline in the 84th minute when a long throw was missed by goalkeeper Yoshikatsu Kawaguchi and he drilled the ball home from eight metres. Five minutes later, he made it 2-1 with a long-range drive than beat the keeper hands down, the ball going in off the post.
Having played for Western Samoa's Under-20 team at the age of 14, Cahill had to endure a long wait for international clearance before making his debut for Australia in 2004.
The 26-year-old made an immediate impact in international football, scoring six goals in his first four appearances for Australia, including a hat-trick against Fiji.
2004 proved to be a great year as he played a key role in helping Millwall get to the FA Cup. He was named Oceania Footballer of the Year in 2004. The next season he was snapped up by Everton.
Before the start of the World Cup, he was struggling to be fit for the opening game against Japan and his selection in the Socceroos squad even triggered a row between Australia and Everton.
Cahill was born in Sydney on December 6, 1979 to a Samoan mother and English father. His parents encouraged him to play football, instead of more popular Australian sports like rugby league or Aussie Rules. In 1997, he asked his parents to take him to England so he could pursue football professionally.
He was also a part of Australia's play-off victory over Uruguay in November last year, which helped them qualify for the World Cup after a dramatic penalty shoot-out. His fans Down Under can now count on his influence to lead Australia at least to the next round.