Captain Dwight Yorke basked in 10-man Trinidad & Tobago's brave 0-0 draw with Sweden in their Group B opener on Saturday and said the shock result gave his side a chance of making the second round.
The Caribbean islanders, making their World Cup debut, worked tirelessly to keep the Swedes at bay in the second half after Avery John was sent off 35 seconds after the restart.
"It's brilliant, this is what footballing dreams are all about," the 34-year-old Yorke told reporters.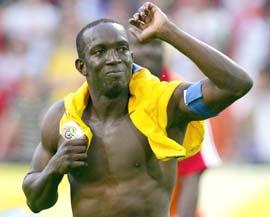 "To come up against a mighty footballing country of Sweden's status with obviously a tiny country like ours, it's a massive result for us."
Playing in a deeper midfield role than he is accustomed to, Man of the Match Yorke harassed Sweden's high-powered strikeforce of Henrik Larsson, Zlatan Ibrahimovic and Freddie Ljungberg and never let them settle.
The result left Trinidad & Tobago, the smallest nation ever to qualify for the World Cup finals, joint second with Sweden after England had earlier beaten Paraguay 1-0.
"We felt that if we were ever going to have a glimmer of hope of going through to the second round...we needed to get something from this game," said Yorke.
"We have put ourselves in a situation where we have given ourselves half a chance. Football is full of surprises."
Yorke, a goal-poaching striker in his heyday, played in a deeper midfield role where his experience helped steady those around him, particularly when Sweden upped the pressure in the second half.
The 34-year-old also showed the way in keeping possession in the desperate late stages when the 10 men were holding a line in front of their own penalty area.
"What we have achieved today as players and as a team is amazing," said Yorke, a European Cup winner with Manchester United who came out of international retirement to spearhead his country's push for a first World Cup qualification.
The squad's best-known player internationally, Yorke was part of Manchester United's treble-winning team. He made his international comeback in the qualifier at home to United States last February after an absence of nearly four years. Having won major honours throughout his career including the Champions League with Manchester United in 1999, he still retains guile, skill and an eye for goal.
Yorke was discovered playing in Tobago by former England and Aston Villa manager Graham Taylor and he joined Villa in 1989, making his first-team debut the following year.
It was a move that changed his life, a life that could have ended when he was just two in 1973 and had a miraculous escape after being hit by a speeding car in his hometown of Canaan.
He was carried on the bonnet for 100 metres before bouncing off and spent three months in hospital recovering from his injuries.
"Being given a second chance at life has affected the way I live," he said. "I live for the day."
His days at Villa were followed by his glory years at Manchester United where he struck up a great scoring partnership with Andy Cole and played a major part in United's treble success in 1999, including the Champions League final against Bayern Munich in Barcelona.
He has a glittering haul of trophies and honours from his Old Trafford days which ended with a move to Blackburn Rovers when Ruud Van Nistelrooy arrived in Manchester.
Text: Reuters