Miroslav Klose will always remember his 28th birthday, which fell on Friday, the opening day of the football World Cup. He scored twice to earn Germany a 4-2 victory over Costa Rica in the opening match of the tournament in Munich.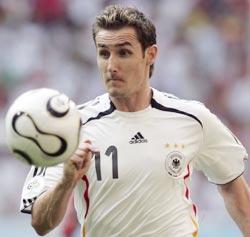 The Bundesliga Player-of-the-Year's two close-range goals, in the 17th and 61st minutes, enabled the hosts finish the day with flourish. In the process, Klose, who netted five goals in the 2002 edition of football's showpiece, took his tally to seven World Cup goals and was rightfully named Man of the Match.
Klose had a great start to the last World Cup, scoring a hat-trick through headers in the 8-0 win against Saudi Arabia. The way he has played for Werder Bremen this season, scoring 25 goals, suggests he could have a big impact in the tournament this time too.
Despite his slender frame, he has the ability to retain his power in the air and finish with precision in the penalty area. Added to that he has worked on his all-round game and now creates openings for his co-strikers.
Against Costa Rica his first strike was a fine piece of opportunism. Bernd Schneider cut the ball back from the right for Bastian Schweinsteiger. The winger set up Klose, who met the ball with precision and tapped home.
The Polish-born striker then made it 3-1 when he fired into the roof of the net in the 61st minute, reacting quickly after his header was saved by Costa Rica 'keeper Jose Francisco Porras.
Klose's early football was at Blaubach-Diedelkopf, a village club, in Germany's seventh division. He then joined FC Kaiserslautern in 1999, but played in only the second team. A year later he got the call-up to the first team and responded by scoring 25 times in 62 matches. The success earned him his first international cap and he made his debut against Albania on March 24, 2001. Germany won the match 2-1, Klose scoring the winning goal.
In the 2002 World Cup in Korea-Japan, he scored five goals and emerged second on the top scorers' list behind Ronaldo, who finished with eight goals.
The 2002-2003 season however was a comparatively disappointing one as he could find the back of the net only seven times.
He moved to Werder Bremen in 2004 and scored 15 times in the Bundesliga. This season he scored 25 goals and had 16 assists in just 26 games.
Having already got two goals to his name, his striking prowess could be the key to Germany's chances for a fourth world crown to the ones they won in 1954, 1974 and 1990.