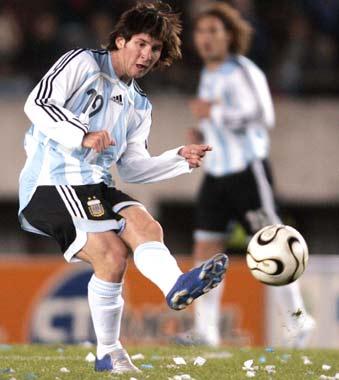 Only a few days left for the biggest sporting event of the year, the World Cup, to kick off.
Who are you backing?
Ronaldinho's Brazil? Or Thierry Henry's France?
Ballack's Germany? Or Beckham's England?
Or are you rooting for some other football squad?
Have you joined the rediff fan club to support your favourite football team?
It's easily done -- register your e-mail address, first, on Rediff Connexions. Note that it does not have to be a Rediffmail address -- your regular one will do.
You can do this in the new user area on the right side of the Rediff Connexions page.
Next, pick your password, fill in a small form that talks you through your school, your college, your interests.
Why do we want information about where you went to school, and what you like besides football?
Glad you asked -- Connexions is all about, you guessed it, making connections.
Once we know your interests, it helps us put you in touch with fellow travellers -- long lost schoolmates, for instance; or someone who shares your hobbies, your interests, your peeves.
The Internet made the world a small place; Connexions is all about making it still smaller.
We will send you an e-mail validating your membership, click on the link in your mail -- and you are in!
Click on the fan club you would like to join below, join, and you are good to go. As a fan club member you can trade views on your favourite footballer. Don't forget to comment on other fan comments!
Who else?
True, most of us have our money on either defending champions Brazil, former champions France, Argentina, Italy and hosts Germany, but there are many who will be shouting hoarse for the underdog, the lesser-known player… the little guy.
You could be one of them. Remember, at the last World Cup there were quite a few who turned up in red and cheered for Turkey, who were playing their first finals since 1954. The Turks not only made it past the group stage, but defied all expectations and finished third.
Who will you cheer for this time? Didier Drogba and his Ivory Coast squad? Raul and the Spanish team? Former AC Milan star Andriy Shevchenko's Ukraine, a team that has qualified for the first time for the World Cup finals?
We have a special fan club just for you! So join in and connect with fans you feel are in your colours, on your side!
Ivory Coast/Iran/Ukraine/Spain/Togo/Other World Cup Football Teams... Who May Just Win!
Or better still start your own group!
Photograph: Getty Images