It says a lot for Spain's World Cup record that the high point most frequently cited by fans is a 1-0 victory over England in 1950.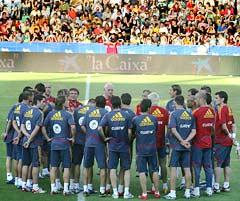 A goal by Telmo Zarra, the all-time leading scorer in Spain's top-flight, helped his country to the semi-finals, their best showing in the tournament.
Zarra, famously described as "the best head in Europe apart from Churchill", drilled the ball home to knock out a mighty England side that contained Stanley Matthews, Billy Wright and Tom Finney.
Spain failed to make the final after losing 6-1 to hosts Brazil in a mini-league between the top four teams.
This one bright spot aside, Spain's World Cup history is littered with disappointment, controversy, bad luck and episodes of sheer ineptitude that have driven even the most devoted fans to despair.
Fans, media, coaches and even players talk about the curse of the quarter-finals, the round where the team have come unstuck in three of the last five World Cups.
"Something always seems to happen to us," Spain keeper Iker Casillas said recently. "Either the team doesn't play well or the referee's decisions go against us or something else."
Spain's World Cup hoodoo began in their inaugural appearance in 1934 when they were eliminated in the quarter-finals by Italy in controversial circumstances.
The sides drew 1-1, with an apparently illegal goal allowing the Italians to equalise.
Eventual winners Italy won a replay 1-0 but were accused of being allowed to get away with heavy-handed tactics on home soil.
CIVIL WAR
Spain were unable to take part in 1938 because of the Civil War and again in 1954, this time missing out on the toss of a coin after drawing a playoff qualifier with Turkey.
Despite the presence of great players like Alfredo Di Stefano and Ladislao Kubala, they also failed to qualify in 1958.
One of the biggest disappointments came four years later when a team containing Ferenc Puskas, Paco Gento, European Footballer of the Year Luis Suarez and an injured Di Stefano failed to make it past the first round.
After poor displays in 1966 and 1978, many Spaniards believed their time had finally come when they hosted the tournament in 1982.
But then came one of their most spectacular failures as the team let the weight of expectation get to them.
Spain scraped through the group stage after a 1-1 draw with Honduras and an embarrassing 1-0 defeat by unfancied Northern Ireland.
The hosts limped out in the second group phase after a goalless draw with England and a 2-1 defeat by Germany.
The 1986 finals also promised much but once again they got the jitters in the quarters and succumbed to Belgium in a penalty shootout.
Sixty years after their stormy quarter-final defeat by Italy, Spain suffered the same fate in 1994.
Losing 2-1 to the Azzurri with a few minutes left, Luis Enrique had his nose shattered when he was elbowed in the face by Mauro Tassotti in the area.
HOWLING ERROR
Blood streaming down his face and tears rolling down his cheeks, the midfielder appealed for a penalty but the referee waved play on and Javier Clemente's side were out.
A howling error by keeper Andoni Zubizarreta led to Spain slumping to a shock 3-2 defeat by Nigeria in 1998.
Although they notched up the biggest win of the tournament with a 6-1 pasting of Bulgaria, they still found themselves on the plane home after the group stage.
It was a return to controversy four years ago in South Korea and Japan.
Hopes were high after three group victories and a penalty shootout win over Ireland in the first knockout round.
However, things started to go wrong when striker Raul picked up an injury that prevented him playing in the quarter-finals and the team struggled to break down South Korea.
With the clock running down in extra-time, they appeared to have grabbed the 'golden goal' winner through Fernando Morientes only for Egyptian referee Gamal Al-Ghandour to rule the goal out, saying the ball had rolled out of play before Joaquin had crossed.
Several players kept their heads down during the shootout and Joaquin, by now carrying an injury, missed his spot kick, allowing South Korea to triumph.
"I'm convinced we would have made the final had it not been for the referee," said coach Jose Antonio Camacho.
(Reuters)