Zinedine Zidane was at his inspirational best as France knocked out world champions Brazil 1-0 in the World Cup quarter-finals in Frankfurt on Saturday.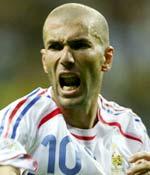 The veteran playmaker's perfectly directed free-kick resulted in the only goal of the match, as Thierry Henry's brilliant finish caught the Brazil defence off guard in the 57th minute.
Les Bleus, who had stunned Brazil 3-0 in the final of the 1998 World Cup, produced a superb performance to set up a showdown with Portugal on Wednesday, for a place in the July 9 final.
In 1998, too, it was Zidane's over-riding influence that led France to their maiden World Cup triumph.
Few had expected France to progress through the group stage, leave aside the semi-finals, after their disappointing showing in the first two games. But things took a u-turn as Zidane, one of the greatest players of the last decade, regained his magic of yore in the round of 16 match against Spain. Suddenly the dribbles, the trickery and magical passes were back. A youthful Spanish side was flabbergasted, an experienced Brazilian side floored by the tactical acumen of the French skipper.
Nicknamed Zizou, the son of Algerian immigrants announced late in April that he would bring down the curtain on his illustrious career by retiring at the end of the World Cup. No one was really surprised by the declaration. After all, the signs were obvious for some time that he was no longer the commanding force of old and time was fast approaching for him to hang up his boots. The gifted midfielder, who came out of international retirement last year to help France qualify for the finals, had looked rusty in below-par performances for Real Madrid.
But in the space of two matches in Germany all that changed. The three-times World Player of the Year, who also led France to the European title in 2000, proved his critics wrong. At 34, in the twilight of his career, he may have lost some speed, but none of his skills.
Without doubt, Zizou holds the key to France winning the World Cup for the second time.