Michael Ballack could hardly walk during extra-time, in the first quarter-final of the World Cup against Argentina on Friday. But Germany's captain showed unflagging strength of character to haul his team into the semi-finals.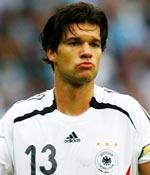 The man from Goerlitz in the old East Germany led his team to triumph in a titanic struggle, in front of 72,000 fans at the Olympiastadion in the historic city of Berlin.
Level 1-1 after 120 minutes of absorbing, but rarely thrilling football, Germany triumphed 4-2 in the shoot-out.
Ballack was at the heart of almost every creative move that Germany produced. And although his touch was wayward at times, he continually prompted Miroslav Klose and Lukas Podolski into promising positions.
His reward may very well be the chance to play in a World Cup final, four years after a yellow card in the semi-finals against South Korea cost him a place in Germany's team that lost to Brazil in the final.
Ballack went down with cramps early in extra-time and needed several minutes of treatment before he could hobble back on. Somehow the 29-year-old skipper managed to finish the 120 minutes of normal and extra-time, making a crucial defensive header to snuff out Argentina's final attack in the last minute.
Despite his exhaustion, the midfield general stepped up to score Germany's second penalty and help the hosts to a 4-2 win in the shootout. For his tireless efforts, he was named man of the match.
"I got a kick from Juan Roman Riquelme and that was possibly why I got cramp so early," Ballack told reporters. "We'd already used the three substitutes but I wanted to play to the end.
"It was tough but we fought to the end."
It says something that coach Juergen Klinsmann never considered striking Ballack from the list of penalties, despite his obvious discomfort.
His influence may not always be obvious over the whole 90 minutes, and the German media can be harsh in its criticism of him, but there is no player quite like him when the clock is ticking down and nothing but a goal will do. It was this priceless quality that saw English champions Chelsea buy him from Bayern Munich on a three-year contract.
With Italy up next, Germany will again be looking for the inspirational drive of their No. 13 to take them to the final.