Deepti Patwardhan in Chennai
What is it like to partner Roger Federer?
Switzerland's Yves Allegro knows it better than most. After all, he's been his only doubles partner for the past three years, a friend for ten years and shared an apartment with the world number one.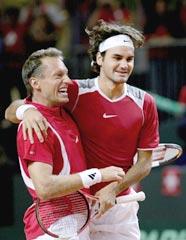 "Even though we have been long-time friends I was nervous for the first couple of times," says Allegro, world number 44 in doubles, who is playing in the doubles event at the Chennai Open.
"When we are playing together Roger is clearly the boss on the court; I just try and concentrate on my job. Since he doesn't play doubles regularly it's tough for him for the first few games, but he settles in very well. If he was to play doubles regularly he'd be number one there too."
For Allegro, living in Federer's shadow is not a problem, even though he has proved a better exponent of the team game.
"When we win it's always something that's expected. But when we lose, people turn around and say it was because of me that we lost," says Allegro, with a smile.
"But it's alright, as long as I am playing with the best player in the world."
Allegro and Federer go back to the junior days when they shared a room at the National Centre in Berne in 1996-97. Federer was also a regular at the tennis club in Grone, which is owned by Allegro's father.
"He's a very solid person. Once I had asked him to play an exhibition event at the club, he gave me the dates three months in advance and stuck to them even after he won Wimbledon (in 2003).
"He played for free. 3000 people turned up for the game when the population of the town was only 2000! It just goes to show his character."
Federer also helped Allegro to make a decision on cutting out on playing singles and concentrating on doubles.
Though his regular doubles partner on tour in Germany's Michael Kohlmann, Allegro accommodates Federer whenever the latter feels like having a go in the doubles draw.
"Yeah I give him the priority and Michael understands that. It's only good for me if I play more matches with him."
The two have won two ATP titles together, at Vienna and at Halle last year.
The 27-year-old teamed up with Federer for the Davis Cup last year, where Switzerland thrashed England 5-0 on clay.
"It was my best doubles match," says Allegro, adding that Federer and Stanislas Wawrinka had given the team a huge start by winning both the singles games on the first day.
"We went on thinking that even if we lost the doubles game, Roger's reverse singles could seal the tie for us."
But, as it turned out, Allegro and Federer went on to beat Andy Murray and Greg Rusedski 7-5, 2-6, 7-6 (1), 6-2 amidst riotous celebrations.
"It was a great match. All of us were pumped up, almost 7000 people had come to support us and the victory celebrations were crazy," smiles Allegro.
It was the first time since 2000 that Switzerland had blanked the opposite team in the Davis Cup, and Allegro believes Federer's presence had a lot to do with it.
"He's made tennis big in Switzerland and, of course, we are not going to see a player like him in the next 100 years. He is very professional. Even when he is focusing hard, he's relaxed before the game."
After qualifying for the World Cup this year, Switzerland will take on Australia at home in February and will no doubt start favourites on clay.
"Davis Cup is a big priority for me. I understand staying number one is a priority for Roger, but it will be great for the team if he's there."