It seems out of place to keep asking about Leander Paes, 'How long will he go on?'
If the results, his fitness and passion for the game are anything to go by, India won't find the answer in early future.
Paes, who won three ATP doubles titles and competed in five finals in 2005, is already preparing to stay in prime condition for the 2008 Olympics, in Beijing. The pain of missing out on the bronze medal in doubles at Athens has only fuelled his ambition to add another Olympic medal to his kitty.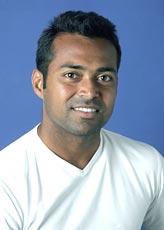 "It would've been nice to leave Athens with two medals [Paes won a bronze medal at the singles event at the Atlanta Olympics in 1996]," he says.
While reserving his energy in singles solely for the team events, Paes is keeping the flame burning by being on tour in the doubles circuit.
The Indian Davis Cup hero spoke with Special Correspondent Deepti Patwardhan at the Chennai Open about the coming year and the need to fill the void in the singles main draws at bigger events
New Year, new partner. Any special goals for 2006?
Just looking forward to another good year. The past year was satisfying since we [Paes and Nenad Zimonjic] finished in the top five teams in the world; especially, since we made it to the final of the Masters series in Shanghai.
[Martin] Damm and I haven't played before but we've played against each other so many times. Also, we grew up together on the junior circuit. We will see how this partnership goes. He's got a very good return of serve and lots of experience. Our Australian Open preparations will also start here [Chennai].
I am looking forward to play in the Asian Games too; hopefully in the singles.
What are the qualities you look for in your doubles partner?
When I choose a partner I don't anticipate results as much. The one thing that I look for in my partner is that he should be a good human being, a clean human being. Of course, you have to look at the technical aspects, the work ethic and the talent, but all that follows later. You spend 36 weeks of the year with the person, and when you've to spent that much time it is important that he's a good person.
I strongly believe that people come into your life for a specific period of time. All partnerships are bound by a time frame. My attitude allows me to teach my partners as much as I can and learn from them as much as possible. But, after that, when you've outgrown what you can give or take from the other person you have to move on. That's exactly what happened with Nenad [Zimonjic] and me.
He's got a great partner for this year; Fabrice Santoro is one of the best doubles players at the moment. And I seriously think that they are going to be a threat at the Grand Slams.
What about your partnership with Martina Navratilova?
I'll play with her as long as she wants. Some partnerships are magic.
Did your singles career become a victim of the success in doubles?
Yes, definitely. I made a conscious decision after 1998 -- which, in fact, was my best year in singles -- to concentrate on doubles.
When people think of Leander they think of Mahesh [Bhupathi]. It is almost as if we are joined at the hip. But the fact is that I have had good results with other partners and so has Mahesh. I've had good results in the singles as well; I've been number 73 in the world, won an Olympics bronze medal, but somehow people still think of us as one. There's so much to both of us than just the results we've got together.
How has the Chennai Open benefited Indian players?
The Chennai Open is a great stage for Indian players to get ATP points. All of them play in the Challengers and the Satellites, but here they get as many points, winning a round as they would if they win a tournament. So it's a great opportunity for them.
I think the base of singles players has definitely increased, but now we have to concentrate on the quality. Right now there are five players -- Harsh Mankad, Rohan Bopanna, Vishal Uppal, Prakash Amrtiraj and Karan Rastogi -- excluding myself, whom we can choose from for the Davis Cup singles. All of them are good but they will have to put in a lot of effort to rise to the top-100. Time will tell if they can do it.
How do look back on your stint in Chennai?
I've won four doubles titles here. It's also the place where I reached my first singles semi-finals [in 1998]. It's a home event and I've obviously enjoyed being a part of it.
Is doubles becoming irrelevant to the tennis world?
It is disappointing that the doubles event is losing its standing. There is hardly any focus on doubles. Nowadays all the tournament structures are designed in a way that they cater to singles. The sponsorship, the quality of training, everything is shifting towards singles.
Is the new doubles rule, where the third set is replaced by a tie-break, compounding the problem?
It will benefit the lesser teams to have it that way. Momentum plays a big part in doubles matches. So any team that wins the second set can just take on from there to win the tie-break. Losing the first set will mean nothing; it's like 10-set dice.