French Open champion Rafael Nadal's main aim at Wimbledon is to enjoy himself and gain more experience on grass rather than try and win the tournament.
"I'm conscious that on clay and hard courts I can manage pretty well, but indoors and on grass I have to improve a lot if I want to achieve good results," the 19-year-old Spaniard told a news conference in Madrid on Friday.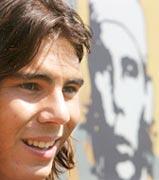 "I'm going to go to Wimbledon to enjoy myself and do my best, but I know that it's a very tough tournament and it isn't the best surface for me.
"My intention is to go there and learn so that one day I'll be able to do something big there."
Nadal, who put together a 24-match winning streak on clay with his triumph at Roland Garros last weekend, lost his first outing on grass when he fell to Alexander Waske in the opening round of the Halle Open in Germany on Wednesday.
But the powerfully built Mallorcan said the defeat could be a blessing in disguise.
"I don't think the defeat will affect my Wimbledon preparations," he said. "I had been playing a lot of pressure games and suffered a drop in tension after the victory in Paris.
"I then only had one day to adapt to the new surface and although I did all I could it wasn't to be. I would have liked to have played another match, but having a few days rest will be good for me too."
"I'm not going to play another tournament before Wimbledon. I need to rest mentally, but I'll go there four days before to make sure I'm prepared."
GOOD YEAR
Looking relaxed and refreshed as he mingled with journalists and gave interviews to local media beside the rooftop pool of a luxury Madrid hotel, Nadal insisted that there was no danger of him losing focus after winning his first grand slam.
| | |
| --- | --- |
| | Also Read |
| | |
"I'm the same person I was six months ago when I hadn't won anything," he said. "Yes, it's been a good year for me, but I'm conscious that only with humility and hard work can I keep winning matches.
"It's only (world number one Roger) Federer who doesn't lose matches and the rest of us aren't like him."
"Things have gone well, but I know that they could go wrong at any time. In tennis there are lot of people all at the same level and I want to keep my feet on the ground so I'll be ready if I do start losing games.
"I've won one grand slam and that's the most important thing and for me Wimbledon will be very difficult. In Spain we don't have grass courts, while Roland Garros is a bit easier because we have clay courts at every club."
Nadal moved up to number three after his victory in Paris and is now tied with Federer in the champions race, but the Spaniard insisted that talk of challenging the Swiss for the top spot in the rankings was premature.
"Of course for all players being number one is an objective, but with the number one we have at the moment that is almost impossible and something very odd would have to happen for anyone to replace him. With Federer at the top being number two is a triumph."