Balaram Shri Gulab Singh and Indresh Dhiraj emerged the best male and female Indian runners respectively in the Mumbai International Marathon 2005 on Sunday.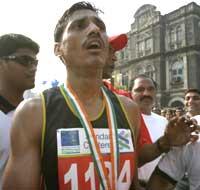 Balaram placed 28th overall in the full marathon, won by Julius Sugut of Kenya, with a timing of 2:25:26 seconds ahead of Nathu Ram (29th - 2:25:49 seconds) and Bipul Sahariya (30th - 26:26:12seconds) in that order.
"I am very happy. I am looking forward to doing well and winning more marathons in the future," said a delighted Balaram after the race.
The Central Reserve Police Force runner, however, had a surprise in store after the race as the clothes he left behind in the changing tent before the race were missing and no help seemed in sight.
'Be ready for the presentation ceremony,' said a race volunteer, urging him to rush to the victory dais.
| | |
| --- | --- |
| | Also Read |
| | |
"Yes, but, where are my clothes? Help me find them first," replied a puzzled Balaram.

He, however, praised the race organisers, saying the race was well conducted and the crowd was very supportive throughout.

Balaram, who hails from Haryana, was in good form coming into the Mumbai race. He had won the All-India Police Marathon in November last year with a timing of 2:24:00 seconds, and then registered his best-ever timing (2:20:00 seconds) to win the Punjab International Marathon in December.

"A lot of hard work has gone into this. I practice everyday for the whole week, except Sundays.

"My coach Paramjit Singh, who is a former Olympian and 1998 Asian Games bronze medallist, has been instrumental in my successful career so far," he said, adding, "My father has also helped me a lot. He always encourages me to do well."

India's top marathon runner, however, shrugged his shoulders when asked he has any sponsor.

"It would be very good for me and the sport if big companies and the government comes forward to help us," he said smiling hopefully.

INDRESH WINS AGAIN

Twenty-six year-old Indresh Dhiraj, with a timing of 3:04:33 seconds, was the best Indian women marathoner.

Dhiraj had also emerged triumphant in the inaugural edition of the event in 2004.

Leelama Alphanso was second-best with a timing of 3:05:50 seconds.

"I dedicate this win to all the people who were affected by the vast devastation caused by the tsunamis."

In the half marathon, 21-km run, for men, India's Deepchand (1:07:11 seconds), Jagannath Lakde (1:07:57 seconds), and Nagendra P Rao (1:08.20 seconds) respectively took the top three places.

In the women's section, Kenya's Tegla Loroupe emerged the winner, clocking 1:18:50 seconds.

Maharashtra's Madhuri Gurnule (1:21:59 seconds) and Hemkumari Goswami (1:26:02 seconds) were a creditable second and third respectively.