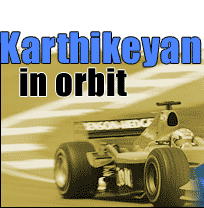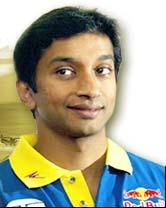 Narain Karthikeyan is set to become the first Indian to drive a Formula One car. What to expect from the fastest Indian on earth?
The British weather was, unusually for it, behaving itself. On that morning of June 14, 2001, Narain Karthikeyan was being strapped down into a metallic green and white Jaguar R1B Formula One car.
"Tell me if he stalls the car," whispered Karun Chandhok in my ear. Chandhok, seven years younger than Karthikeyan and a born racer, was only beginning to test the F3 waters back then, while Karthikeyan was set to make history and become the first Indian ever to test an F1 car.
Chandhok may now be slipstreaming Narain in the Nissan World Series but back in 2001, as all heartbeats paused for a moment, Karthikeyan had already put two good seasons behind him in the prestigious British Formula 3 and was driving in the Formula Nippon Series in Japan.
Seconds later, the pitlane woke to the startling bark of what could only a 10-cylinder F1 engine, one that churns out close to 800 bhp of raw power.
By the time my Nikon blazed off a couple of shots, the Jaguar had leapt out of the pitlane, revs building to a crescendo and explosive gearshifts echoing off the grand stands.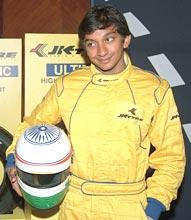 Barely a minute-and-a-half later, the green F1 car barelled over the start-finish line, doing a neat 230 kph into one of the fastest corners in F1 -- the Copse at Silverstone.
"No, he didn't stall," I told Chandhok, whom I found once I walked across the tunnel to where he was watching the action from Copse. But Chandhok wasn't interested; he was waiting for the speck of green to appear again at the far end of the track.
Instead, a drop of scarlet emerged from the haze. "Schumacher!" breathed Chandhok, "He is out on a flying lap and Narain will be behind him." The kid was spot on.
Copse is taken in fifth gear, and flat out; it is easy to make out if the driver lifts off or brakes, both prompting a nasty mid-corner gear change from the semi-automatic gearbox.
The Ferrari grew bigger, blurred out, and created a near-sonic boom as it passed us and screamed through Copse. On its tail was Karthikeyan in the Jaguar, and as the two silhouettes faded into the haze, there was no break in the engine note, no gear shift.
Just the heady howl of two F1engines, flat out. I remember exchanging glances with Chandhok, who was also speechless. To us, Karthikeyan was already in orbit.
We knew at that moment that he could drive the wheels off an F1 car like any other F1 driver. We know he could hold his own on the same stage as Michael Schumacher.
Later, the time sheet would be proof: Karthikeyan, in a one-year-old test mule Jaguar (ancient and obsolete by F1 standards) had lapped Silverstone in 1:26.140 on the 13th (of 15) laps -- three seconds slower than Schumacher, who was out for 58 laps.
Mind you, this was Karthikeyan's F1 car debut, while the German already had close to 5,000 Silverstone laps under his belt.
Fast forward to March 6, 2005, Albert Park, Melbourne. Trust the billion-strong F1 viewership to rise a notch as millions from India train their eyes on their televisions.
Five red lights will come on and go out, signalling the start of the 2005 F1 season. And there, in the heat of battle, will be a yellow Toyota-powered Jordan driven by Narain Karthikeyan.
"How do you expect to fare?" I asked him in Mumbai earlier this week. His racer's eye (racing drivers have shifty eyes -- every one of them; they seem not to be concentrating on any particular thing at any given time) locked on to mine for a nanosecond.
He shrugged, "I will give it my best shot."
Will his best shot be good enough? The Jordan team is going through a rough patch and scored just five points in the last season. Eddie Jordan, who started the team, has lost interest in the outfit and sold it lock, stock and F1 cars to a bunch of Russians under the Midland banner.
Midland F1 will officially enter racing under its own name in 2006, after testing the waters this year.
The Australian GP will be the first time a Jordan will compete with Toyota power. And Toyota itself is on a steep learning curve with reliable but not fiercely competitive cars.
Even if Karthikeyan performs a miracle, fans are expecting few points from the season. But the more die-hard among them point out that Jordan did win a couple of races not so long ago.
There could, god willing, be a pile up at the start, taking all the top runners into the gravel. Or the stars might align, the gods smile on India, and maybe, just maybe, the Indian racer could drive to a podium finish.
What Karthikeyan is certain to do in 2005 is race wheel to wheel with the likes of Michael Schumacher (quite a story for the grandchildren), Jacques Villeneuve (1997 world champ), Rubens Barrichello, Jenson Button and Takuma Sato.
The latter two Narain is familiar with, having beaten them quite comfortably in his F3 days.
But forget results for the moment. Just chasing the F1 dream is a fantastic biography waiting to be written. To begin with, you've got to have talent -- the kind that'll let you drive a car to 300 kph.
A good bloodline from his dad and uncles -- racing and rally drivers including the legendary late Karivardhan — has helped. And then, you need a Volvo truck full of money.
Karthikeyan had the support of his father when he started racing. He went to the Elf-Winfield school in France to learn the craft. He became the first Indian to win a Formula Asia event, graduated to Formula Opel and drove for Carlin Motorsport and Stewart F3.
Continuing his climb up the ladder, he drove the 500 bhp Formula Nippon cars, tested for Jaguar and Jordan and ended up at the Nissan World Series where he has won a couple of races.
Sanjay Sharma, or Hardy, as the motorsport fraternity knows him, heads the motorsports division of JK Tyre and has played mentor to Narain.
"It has been an uphill task for him to get the money as he grew in his career," says Hardy. "We are talking about a couple of crores for a successful F3 stint."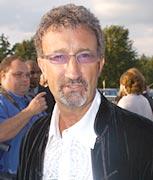 Eddie Jordan was an energetic banker in Dublin, Ireland and if his bank hadn't shut down, Jordan Racing wouldn't exist. He moved to Jersey, another Irish town, and in 1970 drove and got addicted to karting.
From then on, Jordan was driving in all kinds of races and that culminated in the creation of the Eddie Jordan Racing outfit in 1980.
It turned out to be an excellent team, dominating every series it entered until 1990, when Jordan realised it was time to raise the stakes and created Jordan Grand Prix to take on F1.
The debut season, 1991, was a dream -- the team ended in third place overall, a monumental achievement. Jordan would also be the last private entrepreneur to create an F1 outfit. And the team is one of only four to have scored multiple race wins in F1 today.
Racing success apart, Jordan is a legendary talent spotter, and among the list of drivers who started their careers under Jordan's wing are Ayrton Senna, Michael Schumacher, Rubens Barrichello, Damon Hill, Ralf Schumacher, Eddie Irvine and Narain Karthikeyan.
Thankfully, at a crucial period in his career -- when he was driving well in the Carlin F3 team -- the then Ford India supremo, Phil Spender, took an interest in Karthikeyan and made possible the important switch to the Stewart F3 team (Jackie Stewart had sold his F1 team to Ford by then) which eventually resulted in the Jaguar F1 test.
"Many said it was a stupid move, Carlin was doing well that season. But that change gave me the chance to drive an F1 car," says Karthikeyan. He does have the knack of bouncing back after being written off -- when everyone thought his F3 career was doomed, he won the Korea Super Prix in style and led the Macau F3 race before crashing out.
He had a horrible time in Formula Nippon though -- the cars were fast and required aerodynamic settings similar to F1, but Narain was without friends in Japan, and he just couldn't adjust to the food.
The Nissan World Series (Telefonica World Series, to begin with) came as a boon, and support from the Tata group made sure that his bid at the second rung of motorsport was competitive.
He enjoyed his stint at the World Series, drove to a few podium finishes and a couple of wins and even came close to getting a deal with Minardi last season.
"I learnt from my mistake last year, and this time I was able to get the necessary support from my sponsors, and that too, at the right time."

1980-90: Eddie Jordan Racing (EJR) operates from the Silverstone F1 circuit. Wins British Formula 3 in 1987. Wins the FIA International F3000 Championship with Jean Alesi. Jordan Grand Prix (JGP) is founded in 1990.
1991: JGP debuts at the USA GP 1991 with the Jordan Ford 191. Michael Schumacher makes his race debut later, at the Belgian Grand Prix. Best finish is fourth, at Canada. Team ends up fifth overall.
1993: Rubens Barrichello and Eddie Irvine make their debuts. 10th overall in the championship.
1995: Peugeot engines power Barrichello and Irvine to sixth overall, Canada sees a Barrichello/Irvine podium (second and third).
1998: Honda engines see Jordan rise to fourth overall, with Damon Hill and Ralf Schumacher in the drivers seat. Hill-Schumacher score a 1-2 at Belgium.
1999: Schumacher is replaced by Heinz-Harald Frentzen. JGP is third in the constructor's championship. Frentzen takes pole in Germany, while JGP drivers win in France and Italy.
2002: Takuma Sato and Fisichella drive the JGP cars to sixth overall, with four fifth place finishes.
2004: Cosworth supplies engines to Jordan. Ninth overall with only five points.
What was the magic touch that made it happen? According to Hardy, that would be Trevor Carlin, sporting director at Midland F1. "Carlin was made motorsport chief at Midland Jordan, and he knew Karthikeyan's talent.
He was ready to wait till March 5 if Narain could get his sponsors to rally around." Karthikeyan, who is managed currently by Piers Hunnisett, an ex F3 driver, convinced the Tata Group and BPCL to extend their existing association to the next level.
Nobody is talking money yet, but it would cost close to Rs 25 crore to make a bid at Formula One.
Mind you, that kind of money buys a seat for the entire season and space in the 300 kmph billboard that the Jordan F1car will be. Sure, you are paid to drive if your last name is Schumacher, Barrichello, Button or Montoya.
But at the lower rungs of the starting grid, the money the driver brings in ensures that the team floats through the year. Now that he has announced his trump card, Karthikeyan hopes that a few other Indian corporates will step in and make his bid that much more concrete.
When Alex Yoong, the young Malaysian driver, tried to become the first non-Japanese Asian to drive in Formula One, the Malaysian government stepped in with a 'Visit Malysia' campaign along with petroleum giant Petronas.
They put the Malaysian flag on the flank of Yoong's Minardi F1 car. Will our sports minister see Karthikeyan's merit and step in to support his cause? Maybe that is asking for too much; still, trust Karthikeyan to fly the Indian colours at 19 venues around the world.
As for you, now is the time to order that 29-inch television set you've always wanted. Let me assure you, Sunday afternoons are not going to be the same this year!
It is easy to forget that Narain Karthikeyan is entitled to a 'Just Married' sticker on the side of his F1 car. Less then three months ago, at a simple ceremony in home town Coimbatore, Karthikeyan got married to Pavarna, the daughter of an industrialist and now, the wife of the fastest driver in the country.

Pavarna's presence was felt soon after, as Karthikeyan took to a karting track just days after the marriage, with his bride cheering him on from the stands.

But the marriage also seems to have had a good influence on his fortunes. Ever since, he's been on a meteoric rise, first testing with the prestigious American Indy Racing League, and then netting the big one, an F1 drive.

F1 fanatic Yohann J Setna runs Sidewok Cafe at Nariman Point, Mumbai -- frequented by Narain Karthikeyan -- and is a die-hard fan.
On what can stop Karthikeyan
"Nothing! He will start testing and do the mandatory 300 km to attain his Super license and we'll get to see him at Albert Park on March 6. Midland F1 is now in good shape financially and the chances of them going back on their word is remote."
On what Karthikeyan needs to do
"Put in as many miles as possible. Get to know the car before the season starts. And he needs to try and finish the races."
What Karthikeyan shouldn't do
"He shouldn't do a Ralf Schumacher (too aggressive) and score DNFs (Did Not Finish)."
On how he'll fare
"He will score points in the first season thanks to the reliable Toyota engine and the sorted Jordan chassis. That should give him the confidence to go into 2006 as a 'wanted' driver."
On Karthikeyan's favourite dish
He likes spicy chicken tikkas, though he is forced to live on pasta to keep his weight down. And yes, he loves his curd rice!

First GP: USA (Phoenix) 1991
GP Starts: 231
1993: Rubens Barrichello and Eddie Irvine make their debuts. 10th overall in the championship.
Best Championship: 3rd (1999)
Total Points: 279
Podiums: 18
Fastest laps: Hungary 1991 (Gachot) and Spain 1997 (Fisichella)
Race Victories: 4 -- Belgium 1998 (Hill), France 1999 (Frentzen), Italy 1999 (Frentzen), Brazil 2003 (Fisichella)
Pole Positions: Belgium 1994 (Barrichello), and Europe 1999 (Frentzen)
Powered by
Photographs: AFP/Getty Images
Headline image: Imran Shaikh