India's Narain Karthikeyan said he has been talking to a few other teams for a possible switch for the 2006 season.
"Formula One is a complex business. In order to survive, you need to keep your options open. I am in talks with Midland Jordan. I am also talking to a few other F1 teams for 2006," he told reporters in Mumbai, on Monday.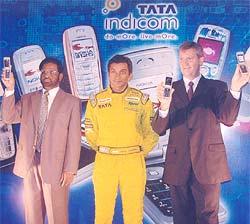 Karthikeyan, who arrived nearly two hours late because of flight problems, was in the city to announce the launch of Tata Indicom-Nokia mobile handsets.
On questions whether he would take up a test driver's role with a top team, he said: "I want to be a race driver, that's my first aim."
The 28-year-old has completed nine races in the season so far with four retirements. His best finish is the fourth place he took at the boycott-hit US Grand Prix, where only six cars started the race, because of a fiasco over tyre safety.
He is currently in 17th position in the drivers' championship with five points.
"I have impressed a lot of people in the paddock in a few races. Hence, I am talking to a few teams about a drive for the next season," the Indian added.
"Jordan is also one of the teams that I am considering, but at the same time I am also looking at other teams."
Karthikeyan said his aim at the start of the year was to be in Formula One. But his priorities have now changed, after competing in 13 races.
He is also eagerly waiting for Jordan's new car, EJ15B, which is an upgraded version of the car currently being used by Karthikeyan and teammate Tiago Monteiro.
"The team has put in a lot of effort into the new car. It seems good on paper, hopefully it will turn out to be the same in performance," he said.
He said his best friend in Formula One is McLaren Mercedes driver Juan Pablo Montoya.
"Montoya is a very good friend. He is much more experienced than me and he has helped me a lot."
"I have learnt a lot in Formula One. 75% of the tracks were new to me and I realized that if you are familiar with the track, you don't waste time learning the track. It gives you more time to develop the car," he said.
His next chance to impress the other teams and earn points will be at the newly added Turkish Grand Prix on August 21.