Michael Schumacher roared back as a winner but reined in the celebrations on Sunday after leading dominant Ferrari to a one-two finish at the European Grand Prix.
The six-times world champion gave his red army of flag-waving home supporters what they had paid to see, running untroubled from pole position to secure the 76th win of a record-breaking career.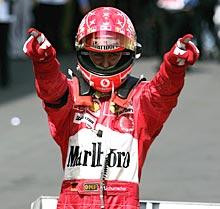 It was the German's sixth win in seven races and he was always in control, a massive 17 seconds clear of the field after just seven laps.
Schumacher took the chequered flag 17.9 seconds ahead of Brazilian team mate Rubens Barrichello with Briton Jenson Button, in a BAR, third for his fifth podium finish of the season.
Ferrari's fourth one-two of the year was all the sweeter after the German's run of five wins in a row ended with a bizarre crash in the tunnel behind the safety car in Monaco a week ago.
However, while Schumacher pumped the air with his fists in delight as he crossed the line, there were none of the usual celebrations on the podium moments later.
Both Ferrari drivers left the champagne unsprayed as a mark of respect for Ferrari chairman Umberto Agnelli, who died in Turin on Thursday night.
"It was a shock to all of us to hear the message, so I hope you understand that the celebrations and the excitement is obviously reduced," said Schumacher, dedicating the victory to the late head of Ferrari's parent company.
MCLAREN NIGHTMARE
Schumacher has 60 points to Barrichello's 46 with Button third on 38. In the constructors' standings, Ferrari have 106 with Renault second on 61 and BAR on 46.
Italian Jarno Trulli, a first-time winner in Monaco, brought his Renault home in fourth place with Spanish team mate Fernando Alonso fifth.
Italian Giancarlo Fisichella was sixth for Sauber after starting in 18th place while Australian Mark Webber gleaned two precious points for Jaguar.
Juan Pablo Montoya was eighth for Williams after a miserable start for the BMW-powered team, with the Colombian colliding with team mate Ralf Schumacher at the first corner.
Montoya, who collided with Michael Schumacher in Monaco, was lapped by the leader after 24 of the 60 laps.
Ralf, who led a Williams one-two last year, retired immediately after also being hit by the Toyota of Brazilian Cristiano da Matta and dumped into the gravel.
McLaren had a nightmare, both Finland's Kimi Raikkonen and Briton David Coulthard retiring before the halfway stage with engine failures.
"It's bitterly disappointing when these situations keep happening," Coulthard said. "It's a family show so I better not tell you what I was thinking. It's very frustrating."
The Mercedes-powered team have just five points with Raikkonen, last year's championship runner-up, languishing on just one point from two finishes.
SATO CHALLENGE
BAR's Takuma Sato provided plenty of excitement after becoming the first Japanese to start from the front row of the grid, retiring with a blown engine after fighting hard for second place.
Sato was heading for a podium finish until he attempted a daring overtaking manoeuvre on Barrichello on lap 46.
The cars collided at the first corner, Sato damaging his front wing. He pitted for a new one but his engine then let go with a sheet of flame a lap later.
Team boss David Richards applauded his efforts however.
"The sport needs heroes," he said. "It needs people who don't win races by calculating the results of the race on a computer the day before.
"It needs people who actually take up every opportunity and challenge to the last lap."
Leading placings in the European Grand Prix:
1. Michael Schumacher (Germany) Ferrari 10 points
2. Rubens Barrichello (Brazil) Ferrari 8
3. Jenson Button (Britain) BAR 6
4. Jarno Trulli (Italy) Renault 5
5. Fernando Alonso (Spain) Renault 4
6. Giancarlo Fisichella (Italy) Sauber 3
7. Mark Webber (Australia) Jaguar 2
8. Juan Pablo Montoya (Colombia) Williams 1