Ferrari's Michael Schumacher screamed to his eighth win in nine races on Sunday in an action-packed U.S. Grand Prix that left younger brother Ralf in hospital.
It was the world champion's 78th career win and he had to fight for it, jousting with Brazilian team mate Rubens Barrichello in a rare treat for race fans used to Ferrari processions.
Barrichello finished as runner-up, 2.9 seconds behind, for Ferrari's sixth one-two of the season.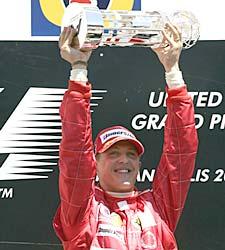 Japan's Takuma Sato took the final podium place for BAR while Colombian Juan Pablo Montoya, who had started in the pit lane and was running a strong third for Williams, was disqualified for the second race in a row.
That equalled the best ever finish by a Japanese.
Schumacher has 80 points to Barrichello's 62.
Italian Jarno Trulli was fourth for Renault ahead of Toyota's French veteran Olivier Panis, who was celebrating his 150th race.
Finland's Kimi Raikkonen, for McLaren, was sixth with British team mate David Coulthard seventh and Hungarian Zsolt Baumgartner taking the first point of his career for struggling Minardi.
That was also the team's first point since March 2002.
The safety car was twice deployed in a race that looked immediately like a demolition derby.
The first intervention was after four cars tangled at the second corner after the start and then on the 11th lap when Ralf Schumacher's Williams spun and piled into the wall at the fastest point of the circuit.
The driver escaped unhurt but was taken to hospital for precautionary checks.
The incident looked far more serious initially however, with Ralf apparently stunned and agonisingly slow to move after the car came to a halt.
An ambulance pulled alongside and doctors attended to him as the field filed past behind the safety car with Schumacher glancing across anxiously.
Spaniard Fernando Alonso, in a Renault, had earlier crashed on the start-finish straight as well.
Alonso's rear right tyre blew as he approached the first corner, pitching his car nose first into the wall and demolishing advertising hoardings in the run-off.