Australian Russell Mark was among the world's top trap shooters in his prime. Gold medallist at the Atlanta Olympics in 1996 in the double-trap event, Mark won a silver in the same event at Sydney four years later.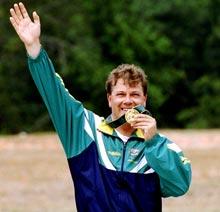 This time, Mark is again part of an Olympic silver medal-winning effort. His protégé Major Rajyavardhan Singh Rathore bagged India's first ever individual Olympic silver medal in the men's double-trap shooting event at the 28th Games in Athens on Tuesday.
Rathore spent three months under Mark's tutelage, and, in the words of the Indian champion, the stint worked wonders for him in Athens.
Harish Kotian spoke to Mark, who is also in Athens, about Rathore's historic feat and the preparations that went into it.
How does it feel now that your ward, Rathore, has won the silver in Athens?
I think it's overstating my involvement with him. I was happy to coach him, but he was a very good shooter, in my opinion, before I started coaching him. I am very happy for him and I am more than happy for the sport in India, because India has many, many good shooters and we found this out at the 2002 Commonwealth Games in Manchester, England. Now I think the sport in India will grow very quickly. What Rathore needs now is some competition to come from behind in India to push him that little bit more. I believe he will win the gold medal at the 2008 Olympic Games in Beijing.
You worked with him for the last three months? What were the key areas that you worked upon?
Just to be tougher, mentally, more than anything else. Technically, he was very good. I had very little things to change with him, technically. But mentally, it was getting him to believe that he could win a medal here. I think now he does believe that he can do this. Once you believe in yourself, everything is easy. I think now that he realises he really is one of the best shooters in the world he will win many more events.
What are the biggest improvements you noticed in Rathore from the time you started coaching and now, when he was shooting in Athens?
I think his ability to handle the finals has increased enormously; his ability to handle and concentrate on the pressure that happens in the finals. This has been an area where I have seen many shooters fail, not just Indian shooters but shooters from everywhere. I think we focussed on getting the concentration perfect for the finals. So it was just the same if you were shooting a practice round in New Delhi; it was no different. He could train himself to do this and he did it very well yesterday.
He proved that he is tougher than most people in the final. He finished in fifth place in qualifying and he went all the way to second place in the final, which I believe has been his biggest improvement.
Rathore has also served in the Indian Army? Do you think working in the military also played a part in the triumph?
Yes, absolutely! There is no doubt that he has got good fundamental basics from his military background. I have always thought this. I noticed how cool he was in the Commonwealth Games when I competed against him. I did not know he was from the military then. But I am sure this was very, very significant. It's a good example for young people that they if they go to the military, one of the things they can gain from the experience is mental toughness, which will not only help you in sports but also in your life in general.
Do you think Rathore has reached his true potential or is there still more to come?
He needs other people in India to come behind him. He now needs the Indian government to support his team of shooters so they all get better. That way he will improve more. But it would be a mistake to just consider he is the only good shooter in India, because it's very important that there is a group of them behind him. The government now needs to support and if they can do this Rathore will get better. But I have no hesitation in saying that India may be the world champion country within four years time.
At the Commonwealth Games they proved they are the best shooting country in the Commonwealth, even better than the Australian team. But I think now they can take the next step and be, as a team, the best shooting country in the world, which is not impossible.
Yesterday Rathore admitted there was not a very big difference between the three medal winners in his event in Athens…
I don't think there is much between the gold medal winner, Sheikh Ahmed Al-Maktoum of the United Arab Emirates, and Rathore. Three weeks ago, in the Czech Republic, Rathore beat him convincingly. There is a group of three or four shooters that can win on any given day, and it rotates between them.
Yesterday was Al-Maktoum's day; there is no doubt he was a very worthy champion. But tomorrow, if this event is held, it may be completely opposite; it may be Rathore winning gold and Al-Maktoum getting the silver. I don't know believe there is much between the top three or four shooters in the world.
Coming back to the event, did you pass on any special tips to Rathore before the event?
Yes, very much. It was a very, very windy day and I told Rathore to not worry about his score when the round was very windy, because the score was going to be low and it would be low for all the shooters. I was very proud of him that in the second round he only shot 43 out of 50, but many of the shooters shot worse. He came out very well through that tough round. It was nearly impossible to hit targets at one stage. He was very unlucky to be drawn at the time that he was.
Al-Maktoum got an easier run with the weather than Rathore. I thought the key thing that won him the medal yesterday was that he was tough when the weather was its worst.
Being a former Olympic gold medallist, and one of the world's best shooters, do you think Rathore has the potential to dominate the world of shooting in the years to come?
Yes, but he needs a break now. The important thing for Rathore is to go home back to New Delhi and enjoy his life with his family for some weeks and have a rest and then start again. Mentally, it has been very tiring for him, and if he does this and structures a programme properly for the next four years, he could easily be the Olympic champion in 2008. But I would predict that he will be the world champion before that. He just needs now to rest and then start again.
What are the important areas that he needs to work upon?
He needs some shooters that are below him to get better and push him. That in turn will make him get better. It's like the Indian cricket team; they are very good because there are many people pushing to get into the team; so the team gets better. It's the same with shooting. He needs other people behind him. That's the only thing he needs now.
Also Read:
Exclusive interview: R S Rathore