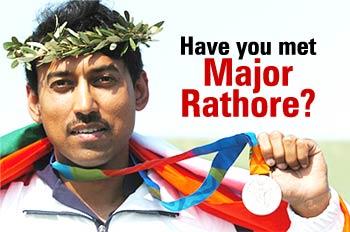 Major Rajyavardhan Rathore.
India's pride.
The man who honoured our country with its first individual silver medal at the Olympic Games.
A man unassuming enough to admit the pressure was frightening.
A man brave enough to fight past it and reach for the silver.
Many of you out there must have met Major Rathore. Shaken hands with the man. Studied with him. Worked with him. Interacted with him
Share your story with us. Tell us what you know about the man who gave India a reason to truly celebrate Athens 2004.
Photograph: ERIC FEFERBERG/AFP/Getty Images