Ferrari's Michael Schumacher claimed a record sixth Formula One title on Sunday in a Japanese Grand Prix won by Brazilian team mate Rubens Barrichello.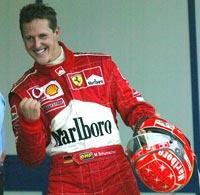 One point was all the German needed to overtake late Argentine Juan Manuel Fangio's 1950s haul of five championships and in the end the German did not even need that to leap into motor racing history.
But he scored it anyway, finishing eighth in a damp season-ending race of fluctuating fortunes and occasional scares.
McLaren rival Kimi Raikkonen, who had to win and hope Schumacher failed to score to have any chance of becoming the youngest champion at the age of 23, finished second.
Schumacher closed out the season with 93 points to Raikkonen's 91.
But with Raikkonen leading for one lap while Schumacher was well out of the points and battling with tail-enders there was always a chance of one of the greatest upsets in Formula One history.
Schumacher had clipped the rear of the BAR driven by Japan's Takuma Sato after seven laps in an accident that sent him to the back of the field and was then almost shunted out by younger brother Ralf 11 laps from the end.
No driver had ever managed to overturn a nine point deficit to win the title in the last race of the season.
The Finn, with team mate David Coulthard making every effort to assist him, did his best but never really threatened Barrichello's comfortable lead.
"It's not very nice to finish second almost every time but we just weren't quick enough this year to win the title," said Raikkonen. "But at least we didn't lose through bad driving."
A winner with Benetton in 1994 and 1995, Schumacher has taken the title for the past four years with Ferrari after becoming their first champion in 21 years in 2000.
Coulthard was third in the race, ahead of Briton Jenson Button in a BAR and Italian Jarno Trulli for Renault.
Sato, replacing Canadian Jacques Villeneuve after the former champion quit the team before the race, came sixth in his first race in a year.
Toyota's Cristiano da Matta was seventh.
Colombian Juan Pablo Montoya led the early stages until retiring after 12 laps in a blow that effectively killed off Williams' hopes of a constructors' championship. Team mate Ralf was 12th.
Ferrari finished the championship with 158 points to Williams' 144 to win the title.