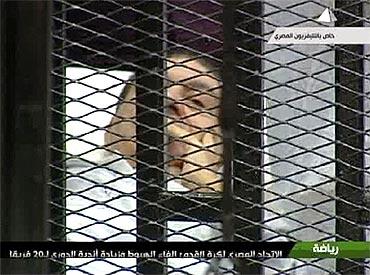 Former Egyptian President Hosni Mubarak's courtroom remarks have reportedly become popular ringtones in his native country. The 83-year-old former president appeared at a special ourt in Cairo on Wednesday to face charges of corruption and the unlawful killing of over 850 protesters during the Tahrir Square revolution that forced him from power.
Now, three different ringtones comprising the few words the deposed leader spoke on the first day of his trial are doing the rounds on the Internet and are available for download, the ABC News reported.
The first is the judge calling on Mubarak by his full name -- Muhammad Hosni Sayyid Mubarak -- followed by the ex- president's response: "I am here, your honour."
The third and the most popular one is Mubarak's response to the charges of corruption and complicity in the murder of 850 protesters, made as he lay on a hospital bed inside a cage of mesh and iron bars in the courtroom -- "I categorically deny all the charges."
Not only have the ringtones exploded in popularity, but many Egyptians took to popular social networking websites such as Facebook to post photos of Mubarak inside the cage on their walls.
Image: Former Egyptian president Hosni Mubarak in the courtroom for his trial at the police academy in Cairo
Photograph: Reuters